Axl Rose Offers Victim Of Racist "Tip" Free AC/DC Tickets
8 September 2016, 10:45 | Updated: 8 September 2016, 10:48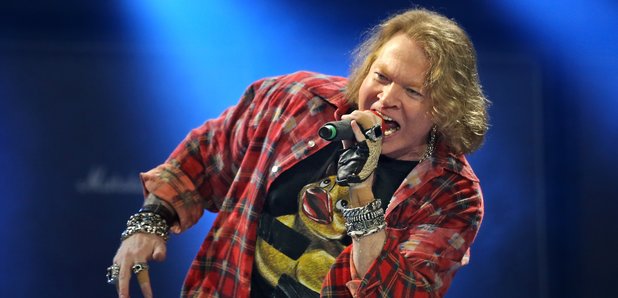 Jane The Virgin actress Greice Santo revealed the rocker personally called the waitress after hearing about the event.
Axl Rose has supported a victim of racist and xenophobic abuse by offering her free tickets to see AC/DC, who he's been performing with since Brian Johnson's departure.
Last month, it was reported that 18-year-old waitress Sadie Elledge finished serving customers at Jess' Quick Lunch in Harrisonburg, Virginia when she found that instead of a tip, they had written on their receipt "We only tip citizens".
See the receipt, posted by her father John Elledge below:
Now, according to Jane The Virgin actress Greice Santo, who decided to cheer up Elledge by offering her a free makeover via her Glam with Greice initiative, Axl Rose was so touched by the story, he wanted to speak to Sadie himself and invite her to see AC/DC perform.
Speaking to Alternative Nation Santo revealed: "He reached out to me. Axl is a friend and I told him about Sadie and he already knew her story. When I told him about the Glam with Greice that I wanted to do he actually wanted to fly in personally and invite her to the Ft. Lauderdale show on August 30th and have her and her family flown down to show in Ft. Lauderdale and put up in beautiful hotel rooms there as well on his dime. He was going to pick up the WHOLE tab."
She added: "But Sadie could not come that day because there was a death in her family. So Axl told me we are coming near her town on September 17th at DC concert, let's have her come then. Axl is one of the kindest and most generous men I've ever met and he is such a cool but down to earth regular guy. He really wanted to make this so special for Sadie and help me with my Glam with Greice initiative."
Then describing how the Guns N Roses frontman was finally able to deliver the good news, Santos added: "Axl called me at a certain time while I was with Sadie and the stylists and makeup artists and I put him on speaker to tell Sadie the GREAT NEWS!!!"
Bravo Axl. Bravo.