WATCH: Axl Rose and AC/DC Pay Tribute To Cliff Williams Following Retirement News
22 September 2016, 11:40 | Updated: 22 September 2016, 11:46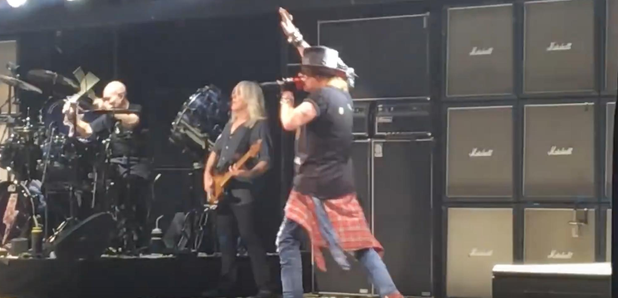 The bassist confirmed he would leave the band after their Rock Or Bust tour.
AC/DC have paid tribute to Cliff Williams on the last show of their Rock Or Bust tour.
Axl Rose, Angus Young and the band saluted the long-time bassist, after he confirmed he would be retiring from the Aussie band.
At the end of their 25-song set at the Wells Fargo Centre in Philadelphia, Angus Young brought Williams to the front of the stage before giving him a bow.
Watch the moment, captured by kurtsquiers, below:
The band also treated fans to Problem Child, taken from their 1976 Dirty Deeds Done Cheap album, for the first time during their tour.
Ahead of the gig, Williams - who joined the band in 1977 - confirmed his departure in a message on AC/DC's official YouTube page, revealing: "I'm just ready to get off the road, really and do what I do".
Watch the full video below:
Photo: YouTube/kurtsquiers