Axl Rose And AC/DC Reportedly Spotted Leaving Same Rehearsal Studios Amid Tour Rumours
29 March 2016, 13:30 | Updated: 11 April 2016, 12:05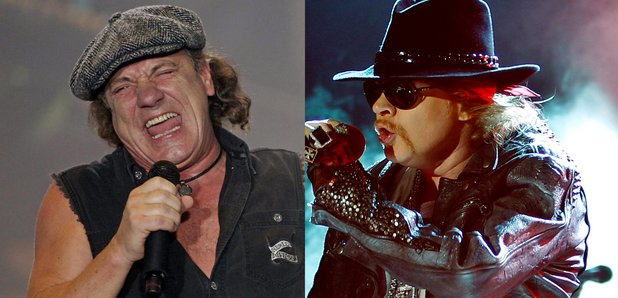 The rockers have fuelled reports that the Guns N' Roses singer will replace AC/DC's Brian Johnson on tour.
AC/DC have added fuel to the rumours that Axl Rose will stand in for Brian Johnson on tour, after they were reportedly spotted leaving the same rehearsal studio.
Last week, Atlanta-based DJ Jason Bailey, claimed that the Guns N' Roses frontman was "all but a done deal" to replace Johnson for their remaining 10 dates and now it looks like the rumours could be true.
Hollywood gossip website TMZ has posted photos of the Guns N' Roses frontman and the Black In Black rockers reportedly at the same space, suggesting they are indeed rehearsing together.
See the picture of Rose below:
Axl Rose -- Back in Black Hat ... In Studio with AC/DC!! (PHOTOS) https://t.co/o5T4yElCd8

— TMZ (@TMZ) March 28, 2016
See the GNR frontman and AC/DC in a split screen image posted by Ultimate Classic Rock below:
Axl Rose and AC/DC reportedly photographed at same rehearsal studio. Details here: https://t.co/BEdQVEIl4X pic.twitter.com/gwYd4gnEpk

— UltimateClassicRock (@UltClassicRock) March 29, 2016
Meanwhile, the "classic line-up" of Guns N' Roses are set to play Coachella Festival next month.
According to a fan that bumped into the Welcome To The Jungle singer outside a hotel, Rose reportedly teased the band aren't just set to play Coachella, Las Vegas and Mexico, but will do a "whole tour".
Niether Guns N' Roses or AC/DC have commented on any of the claims.
However Guns N' Roses have most recently shared what looks like their tour instruments and equipment on Twitter.
#GnFnR pic.twitter.com/D7QrLWwUIe

— Guns N' Roses (@gunsnroses) March 28, 2016