AC/DC Prank Guns N'Roses With "Security Scare"
9 February 2017, 12:13 | Updated: 23 February 2017, 19:05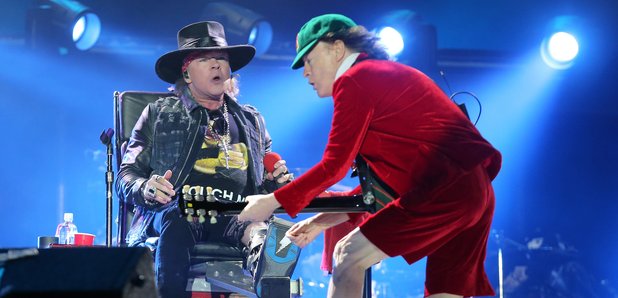 As GN'R touched down in Australia, they had a very special welcome party at the airport…
There's no greater place for banter than the rock fraternity, as this tale shows.
Guns N'Roses are currently on tour in Australia, playing Sydney on Friday and Saturday (10 and 11 February), before heading off to Melbourne, Adelaide and Perth next week.
However, when the band touched down at Sydney airport on Wednesday night, they were told that the authorities wanted to perform a "security check". Cue all sorts of paranoia and worrying.
But, as Duff Mckagan tweeted last night: "We waited. It was Angus Young in an orange vest!"
Told we had to stay on plane last night in Sydney; 'airport security' wanted to do a check. We waited. It was Angus Young is an orange vest!

— Duff McKagan (@DuffMcKagan) February 8, 2017
The AC/DC guitarist - usually more at home dressed as a schoolboy - was there to welcome the reformed G N'R to 'Straya and had enlisted the co-operation of the airport authorities.
The prank has sparked rumours that the Acca Dacca man will joining Axl, Slash, Duff and co. onstage at their Aussie shows.
Young previously joined Guns N'Roses at Coachella last year, after Rose stood in for AC/DC singer Brian Johnson for some dates in 2016, after having to quit touring to save his hearing.