Guns N' Roses For Appetite For Destruction UK Tour?
1 May 2018, 14:17 | Updated: 3 May 2018, 12:15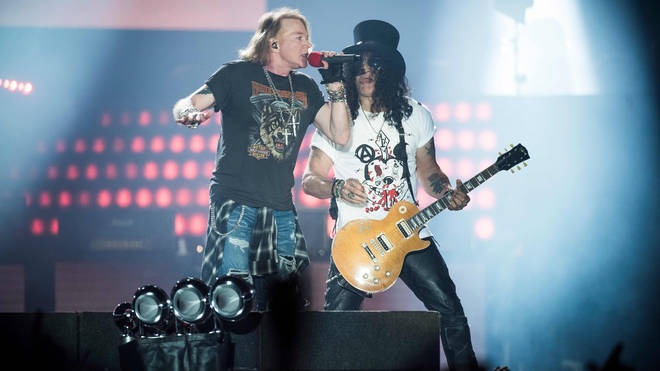 The artwork from the band's seminal 1987 album has been spotted in London, while a teaser message has appeared on their website.
Guns N' Roses are teasing fans with an incoming announcement involving their Appetite for Destruction record.
A poster featuring the artwork from the Sweet Child of Mine band's debut album featuring all five original members has been spotted in Camden, leading fans to speculate that a full reunion with drummer Steven Adler and guitarist Izzy Stradlin could be on the cards.
The band have also launched a new teaser on their website, www.gnr.fm, with the cryptic message: "Destruction is coming."
However, with the heavy rock band's seminal 1987 LP turning 31 in July, it could simply refer to Axl Rose and co re-releasing or re-issuing the album.
Axl, Slash and Duff McKagan reunited with original drummer Steven for the first time since 1990 at their concert in Cincinnati in July 2016.
See Guns N' Roses play Black Hole Sun, as a tribute to Chris Cornell at the London Stadium last year.
Watch Foo Fighters frontman Dave Grohl join the band on stage in Tulsa: