WATCH: Green Day's Basket Case Gets Sung By 109 Movies
15 February 2016, 11:50 | Updated: 15 February 2016, 12:00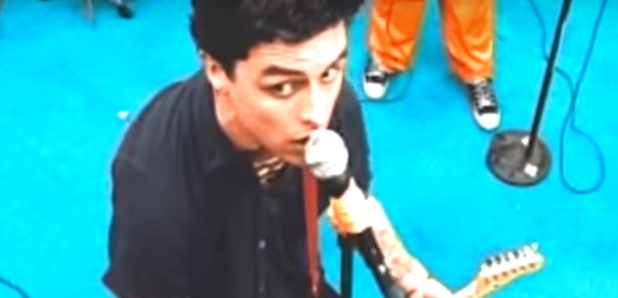 Basket Case just got even more epic.
Someone has just remade Green Day's Basket case using 109 movies... just because.
The video sees every massive fictional character from Yoda to Ferris Bueller singing Green Day's famous lyrics, and it's pretty impressive.
YouTube user The Unusual Suspect dropped the mashup on Valentine's Day, and it's already amassed over 100,000 views.
Prepare to never see Basket Case as you've never seen it before, now with 109 films expertly singing the lyrics.
Watch Green Day's original video below:
And just incase you missed them, here's a list of all 109 films featured in the viral video. Thank you Internet.
1 Star Wars Ep. V - The Empire Strikes Back
2 Ferris Bueller's Day Off
3 Bride of Chucky
4 Point Break
5 Monty Python's Life of Brian
6 Edge of Tomorrow
7 Troy
8 Sweet Home Alabama
9 UHF
10 Scream 4
11 300
12 Last Action Hero
13 Guardians of the Galaxy
14 Batman Begins
15 Harry Potter and the Philosopher's Stone
16 The Lord of the Rings: The Fellowship of the Ring
17 Before Sunset
18 Pirates of the Caribbean: On Stranger Tides
19 Ronin
20 Ali G Indahouse
21 Lethal Weapon 2
22 Alice in Wonderland
23 Spaceballs
24 The LEGO Movie
25 Blazing Saddles
26 Spy Kids 3-D: Game Over
27 Kick-Ass
28 The Departed
29 Pleasantville
30 Dirty Rotten Scoundrels
31 Mr. Deeds
32 The Breakfast Club
33 Mars Attacks
34 Pirates of the Caribbean: The Curse of the Black Pearl
35 Ace Ventura: Pet Detective
36 Irrational Man
37 A Nightmare on Elm Street 5: The Dream Child
38 The Godfather: Part III
39 Scary Movie
40 Monsters, Inc.
41 Whiplash
42 Superbad
43 Analyze This
44 The Master
45 Wall-E
46 Equilibrium
47 Star Wars Ep. II - Attack of the Clones
48 The Dark Knight
49 Mother & Child
50 Austin Powers: International Man of Mystery
51 Bridesmaids
52 Ice Age
53 Assassins
54 Hook
55 Finding Nemo
56 Platoon
57 The Hangover
58 Donnie Darko
59 Heat
60 Robin Hood: Men in Tights
61 The Devil Wears Prada
62 Spider-Man 2
63 Kindergarten Cop
64 Slumdog Millionaire
65 The Lion King
66 The Lone Ranger
67 Raw Deal
68 Miracle
69 Star Wars Ep. IV: A New Hope
70 Boyz n The Hood
71 Tombstone
72 Psycho
73 Once Upon a Time in the West
74 The Man Who Shot Liberty Valance
75 Training Day
76 Minions
77 The Maltese Falcon
78 For a Few Dollars More
79 Fight Club
80 Breakfast at Tiffany's
81 The Expendables 2
82 The Great Mouse Detective
83 The Looney Looney Looney Bugs Bunny Movie
84 Back to the Future: Part II
85 Scarface
86 The Emperor's New Groove
87 Ted
88 Austin Powers in Goldmember
89 The Muppet Christmas Carol
90 Liar Liar
91 Anchorman 2: The Legend Continues
92 Life of Pi
93 Citizen Kane
94 The Magnificent Seven
95 The Blind Side
96 101 Dalmations
97 The SpongeBob SquarePants Movie
98 The Room
99 The Sword in the Stone
100 Three Amigos
101 The Queen
102 A League of Their Own
103 Independence Day
104 The Wrong Trousers
105 Cars
106 The Jungle Book
107 Goodfellas
108 Ben-Hur
109 Pinochhio