WATCH: Billie Joe Armstrong Gives Guitar To Disabled Fan
9 February 2017, 13:02 | Updated: 23 February 2017, 19:06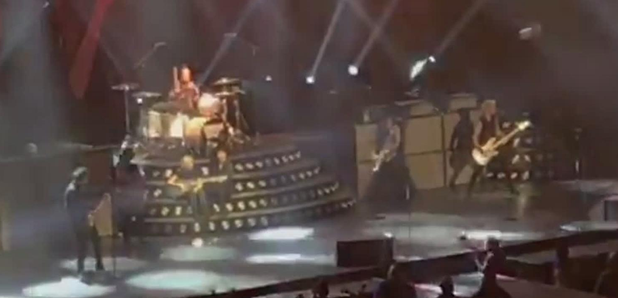 The Green Day frontman invited the mega-fan to perform on stage at The O2, London.
Billie Joe Armstrong made one fan's day when he gave away his own guitar live on stage.
The Green Day frontman invited a few members of the audience to perform with the band during their gig at The O2, London last night (8 February), but a particularly special moment came when he asked if anyone knew how to play guitar.
Watch what happened next in our video taken by Radio X's Ross Buchanan:
After spotting Rachel in the crowd, Armstrong asked her to join him on the stage, before handing her his guitar to play.
However, it was once they'd finished performing together, that the Revolution Radio rocker proved he was all heart, asking the fan her name, before declaring: "Rachel you need to keep the guitar. You can have the guitar".
During their 30-song-set Green Day also played a medley of great British hits, and paid tribute to the late George Michael with their saxophonist playing the famous solo section of his Careless Whisper hit.
See their full setlist, courtesy of setlist.fm, below:
1. Know Your Enemy
2. Bang Bang
3. Revolution Radio
4. Holiday
5. Letterbomb
6. Boulevard of Broken Dreams
7. Longview
8. Youngblood
9. 2000 Light Years Away
10. Hitchin' a Ride
11. When I Come Around
12. Waiting
13. Christie Road
14. Burnout
15. Scattered
16. Minority
17. Are We the Waiting
18. St. Jimmy
19. Knowledge(Operation Ivy cover)
20. Basket Case
21. She
22. Do You Wanna Dance(The Beach Boys cover)
23. King for a Day (w/ Careless Whisper saxophone solo )
24. Shout / Always Look on the Bright Side of Life / Teenage Kicks / (I Can't Get No) Satisfaction / Hey Jude
25. Still Breathing
26. Forever Now
Encore:
27. American Idiot
28. Jesus of Suburbia
Encore 2:
29. Ordinary World
30. Good Riddance (Time of Your Life)