Why Taylor Hawkins Got Slapped In The Face By Prince Harry...
20 September 2017, 17:01 | Updated: 20 September 2017, 18:01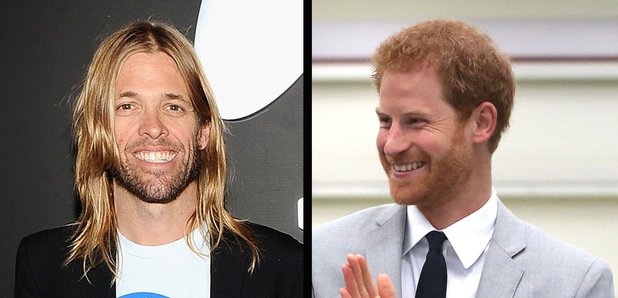 The Foo Fighters drummer has recalled the incident which led to him being dealt a whopper by the red-haired royal.
Prince Harry once slapped Taylor Hawkins across the face to help him get over his jet lag before he went on stage.
Talking to BBC Breakfast about the royal, the Learn To Fly drummer recalled: "We were getting ready to walk on stage, and I was tired and so jetlagged. And he just goes [slap]"
Dave Grohl adds: "He's in the military too, that's not someone you wanna get slapped by".
Hawkins concluded: "I was like, 'what was that?' It was great, it was funny. I wore the slap with pride. He's one of the boys."
Watch Foo Fighters play Never Gonna Give You Up with Rick Astley at The O2, London:
And it seems Prince Harry is just as caring as he is pragmatic, since Grohl revealed he visited him after he had leg surgery.
"When I had my surgery in London, he was one of the first people to visit me afterwards," Grohl told the outlet.
"He brought me a gift, he brought me this pillow to put my iPad on while I was in recovery.
And it turns out Foo Fighters aren't the only rock star friends Prince Harry keeps, with The Killers Ronnie Vanucci Jr. claiming the royal was a "great kisser".
Asked about the reports that he's been jamming with the red-haired Prince, the sticksman told NME: "Oh, y'know, he's a great kisser. We became pals 10 years ago. We just get along".
He added: "I knew nothing about the royals, so when I met him he was just a dude. I'm a dude in a band and he's a dude in London."
Asked if Prince Harry's famous naked pool table scandal in Vegas was any of his doing, Vannucci Jr. replied: "That was not my fault. I wasn't there for that one."
Watch Brandon Flowers discuss The Killers secret Glastonbury set:
Photo credit: Taylor Hawkins: Getty/Larry Busacca
Prince Harry credit: Niall Carson/PA Wire/PA Images