Slipknot Don't Want To Share Festival Bills With Foo Fighters
12 February 2018, 16:58 | Updated: 12 February 2018, 18:33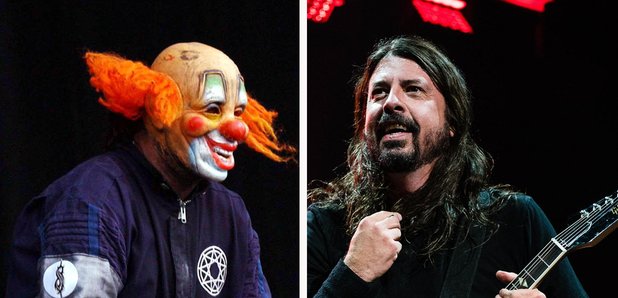 Michael Shaun "Clown" Crahan has revealed why he wouldn't want to appear on a line-up with Dave Grohl and co.
Slipknot have suggested it would put off their loyal fans if they shared a festival bill with Foo Fighters.
As Blabbermouth reports, when being part of the panel for a Pollstar Live! event in Los Angeles last week and talking about the band's own Knotfest, Michael Shaun Crahan - who's best known by his Clown alter-ego - was asked about the prospect of of sharing a line-up with the Learn To Fly band.
Speaking to the crowds at the "Underground To Mainstream: What Are Metal And Hip-Hop Doing Right (And Where Does It Go From Here?)" event, the Wait And Bleed rocker said: "I ask myself, does Slipknot want to play next to the Foo Fighters? The answer is no, because my kids don't want me to do that."
"If we play alongside the Foo Fighters we are going to get new fans, I agree with that. I love that," he continued.
"But I'm worried about the kid that won't come to the show, because we're playing with the Foo Fighters. He wants to know why we're not playing with Nine Inch Nails. Those kids tell all of us what they want."
He concluded: "So, don't try to figure out ways of how to combine things for the new fan. I don't need the new fan, I need the fan that has anxiety, parents are getting divorced, social problems, gender problems — I need them to come to the ultimate show. And they're going to get that at Knotfest."
Watch as Dave Grohl kicks a fan off stage in Australia, courtesy of YouTube account Machin193:
Lead photo credit: Slipknot clown: Yui Mok/PA Archive/PA Images, Dave Grohl: Colt Coan / Rmv/Zuma Press/PA Images