Rick Astley Talks The Possibility Of A Foo Fighters Collaboration
19 September 2017, 12:14 | Updated: 19 September 2017, 12:18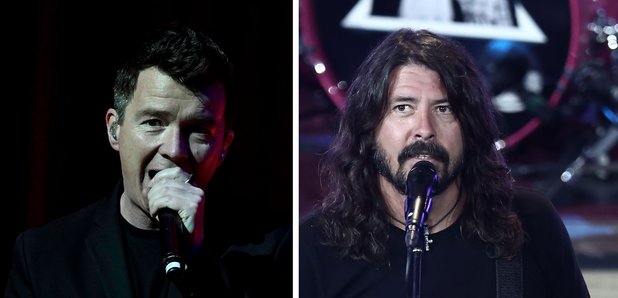 The Never Gonna Give You Up singer has hinted he'd welcome the chance of working in the studio with the Learn To Fly rockers.
Rick Astley has hinted that he could work with Dave Grohl on a collaboration in the future.
The 80s pop legend had never met the Foo Fighters frontman until he joined them on stage at the event in Japan, which saw them "rickroll" the crowd by mashing-up Nirvana's Smells Like Teen Spirit mixed with Astley's biggest hit Never Gonna Give You Up.
Asked if there could ever be a Rick Astley and Foo Fighters song after they featured Justin Timberlake on their Concrete and Gold album, told BANG showbiz: "There you go. It's funny that actually. I think it is really brave when artists like that do that.
"You might upset the audience, the critics etc. I think they just think, y'know what we are doing it.
"He's in the studio next door, we are doing it."
Asked what he'd make Dave when he comes in and records his guest vocals at his home studio, he joked: "Well Dave likes his coffee. Have you not been on YouTube and googled it? You need to do that."
Watch the moment Rick Astley joined the Foos on stage here:
Speaking to BANG about the surreal moment he joined the Run rockers on stage he said: "That was literally the first time I had met that band walking on stage and playing that song. Dave Grohl came over and gave me a huge and introduced himself, and then 20 minutes later he said right, 'We are bringing out a friend of ours and this is happening now.'
"We hung out a bit afterwards and they were really generous with their time with my band and crew as well. They were a really lovely bunch of guys.
"Over the years they must have got to a place where everybody that works with them is on it and you can feel that.
"They are probably one of the hardest working rock bands, they are really cool and laid back."
See just how much Dave Grohl loves coffee here: