PHOTOS: This Is What The Foo Fighters Arms Looks Like...
15 September 2017, 14:05 | Updated: 15 September 2017, 18:30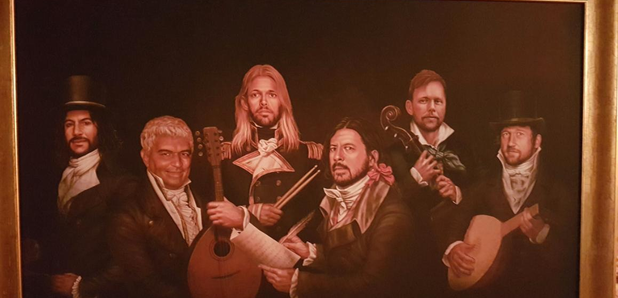 Get a look inside the Learn To Fly rockers' pop-up pub, which launched in London this week.
The Foo Fighters announced they'd be opening a pop-up pop in east London to celebrate the release of their Concrete And Gold album this Friday (15 September).
Last night saw the official launch night of The Foo Fighters Arms in Bethnal Green, and as always the band completely over-delivered.
Lucky members of the public who had pre-ordered the album were invited to the watering-hole, which came complete with its own signage, and Foo Fighters beer.
See some of the best pics from the boozer below:
There's no mistaking what pub you're going into here...
Tonight I will be spending the night in the Arms of the @foofighters. Be gentle. pic.twitter.com/2s1ywGGjYn

— Carl Windsor (@tangallio) September 14, 2017
And what's the point of having a bar unless it bears your name in neon lights?
As the band previously announced, they've brewed their own beer, complete with their own branded pint glasses.
Done. Done. On to the next one. @foofighters #FooFightersArms pic.twitter.com/Yws0uLBl9N

— Matt Milton (@mattmattmilton) September 14, 2017
And it seems there's three choices of beer to choose from between La Dee Da, Dirty Water and Concrete and Gold.
Great night out at #FooFightersArms thanks for the invite down guys; if you're a fan get down there! @foofighters #theregoesmybeero pic.twitter.com/QvN3ENVb2b

— Colin (@CassCol) September 14, 2017
Plus, the pub comes complete with an ye olde-style paintings of the band...
This portrait answers the age-old question of: could Dave Grohl look any cooler? Yes. Yes he could.
Love it #FooFightersArms pic.twitter.com/7N47LMQX5J

— Donna (@donnak2002) September 14, 2017
And if that wasn't enough, there's a TON of merchandise up for grabs too.
Here's the list of merchandise available at #FooFightersArms

(Pics: @bonnie1408) pic.twitter.com/qsbLEYvMfR

— Foo Fighters Archive (@FooArchive) September 14, 2017
Watch Dave Grohl pay tribute to Florence Welch at Glastobnury 2017:
Lead photo credit: Twitter/tangallio