WATCH: Foo Fighters Join Up With Queen and Led Zeppelin For Freddie Tribute
7 September 2015, 13:50 | Updated: 7 September 2015, 14:08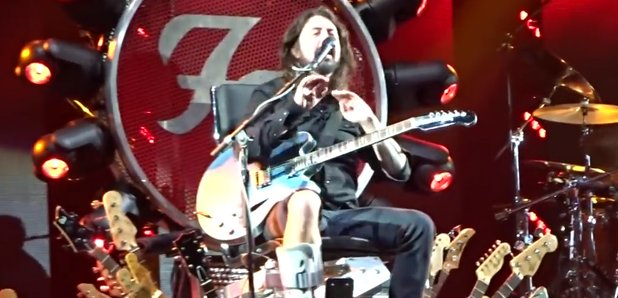 Queen's Roger Taylor and Led Zeppelin's John Paul Jones joined Dave Grohl and the Foo Fighters to form a "super duper group" for a Freddie Mercury tribute onstage at Milton Keynes.
Milton Keynes Bowl witnessed history this weekend as the Foo Fighters were joined onstage by members of Led Zeppelin and Queen for an incredible tribute to Freddie Mercury.
John Paul Jones of Led Zep and Roger Taylor of Queen walked onto the stage in a surprise performance of what Dave Grohl called a "super duper group".
They then launched into a rocking version of Under Pressure, the Queen/David Bowie hit from the 1980s. Before that, Dave Grohl described it as the "Foo Fighters living out their rock and roll fantasy".
Dave and Taylor Hawkins shared lead vocals, including Hawkins' incredible impression of Freddie's high notes. Watch the performance in its full glory below.
Also check out Dave's kickass Game Of Thrones-style seat, specially-built to let his leg recover while he plays live.