WATCH: Dave Grohl Just Told His Mum About His Acid Dealer...
3 May 2017, 16:44 | Updated: 12 May 2017, 17:31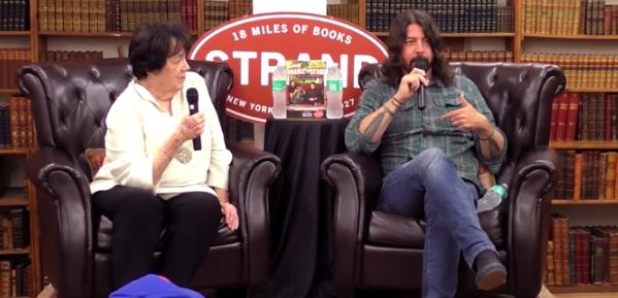 The Foo Fighters frontman accidentally dropped the bombshell while promoting his mother's From Cradle To Stage book.
Dave Grohl and his mum have been on the promotional circuit to promote her From Cradle To Stage book.
Their stop off at the Strand Bookstore saw them sharing more stories from the rocker's childhood, but one story Virginia Hanlon Grohl didn't bargain for was how she mistook her son's acid dealer for a gifted young man.
Watch their video from 13:00 to see the moment she found out here:
When reminiscing about his school life, the Foo Fighters frontman recalled: "There was once at the dinner table. I don't know if you remember this either - this is fun. I think I was maybe about 16 or 17 years old and you said: 'David do you know Mike Mallory?' I said 'yeah'.
"And you said 'he's brilliant I think he might be a genius'. I didn't tell you until maybe 15 or 20 years later, but he was my acid dealer".
Well it turns out Dave didn't actually tell his mother at all, because she was pretty shocked about it.
Virginia Hanlon Grohl's From Cradle To Stage: Stories from the Mothers Who Rocked and Raised Rock Stars - features interviews with the mothers of Haim, Dr Dre, R.E.M's Michael Stipe, the late Amy Winehouse - and is out now.
Photo: YouTube/Strand Bookstore