WATCH: Dave Grohl's Mother Shared His 6th Grade Report Card On TV...
27 April 2017, 09:05 | Updated: 27 April 2017, 17:47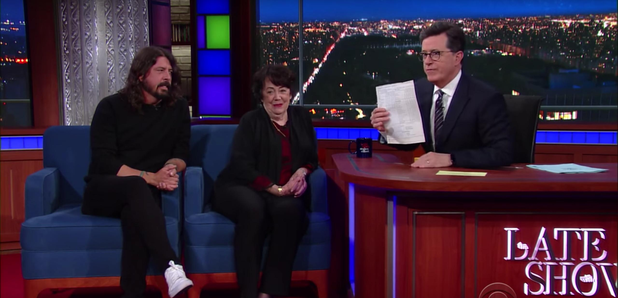 The Foo Fighters frontman is currently helping his mum promote her From Cradle To Stage book.
Dave Grohl's mother read his report card out on television, and it was hilarious.
Virginia Hanlon Grohl - who is set to release her From Cradle To Stage book - appeared with the Foo Fighters frontman on The Late Show With Stephen Colbert and decided to take a walk down memory lane.
Watch their adorable interview here:
After sharing an embarrassing photo of the rocker, Colbert got out his 6th grade report card, which read:
"Respects Authority: Needs Improvement
"Is Courteous: Needs Improvement,
"Accepts Responsibility: Unsatisfactory
"Exercises Self Control: Needs Improvement
"Exerts Effort: Unsatisfactory
"Begins and Completes Work On Time: Unsatisfactory"
And the list goes on...
The Foo Fighters rocker takes it all in his stride, joking: "You know, I gotta be honest. I was kicking ass until first grade, and it all went downhill from there."
Good job he had other talents, eh?
That's not the most embarrassing thing his mother has ever done. Back when the would-be rock star was just starting out, his mum had a strange and cringe-worthy birthday request when they visited a jazz club.
Watch him explain the story in MUSE's video from 1:17 onwards:

Virginia Hanlon Grohl's From Cradle To Stage: Stories from the Mothers Who Rocked and Raised Rock Stars is available to pre-order now.

Photo: YouTube/The Late Show With Stephen Colbert