Watch Dave Grohl Drum With The Preservation Hall Jazz Band
27 April 2017, 17:02 | Updated: 27 April 2017, 17:16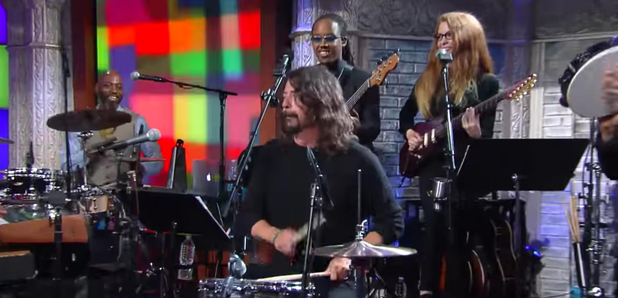 The Foo Fighters frontman pulled-off a special performance with the New Orleans-style jazz outfit.
Dave Grohl took part in an impromptu performance with The Preservation Hall Jazz band.
The Foo Fighters frontman, who appeared on The Late Show With Stephen Colbert with his mother Virginia Hanlon Grohl to promote her From Cradle To Stage book, joined the outfit for a rendition of Santiago.
Watch him below:
The Learn To Fly rocker definitely seemed more at home on the stage with the band compared to the first time he was made to drum with musicians at a jazz club.
Recalling the time his mum asked him for a special birthday treat, Grohl said: "We went to One Step Down and we sat down.
"And at this point I'm kind of an established punk rock kid with stupid hair and ripped up jeans. So we walk into the Jazz club and the band's just ripping. And my mom says to me: 'You know what I want for my birthday? I want you to get up there and play the drums.'"
Find out what happened next in MUSE's video from 1:17 onwards:
Virginia Hanlon Grohl's From Cradle To Stage: Stories from the Mothers Who Rocked and Raised Rock Stars is available to pre-order now.