WATCH: Remember Dave Grohl's Hilarious "Fresh Pots" Video?
10 April 2017, 12:43 | Updated: 10 April 2017, 17:16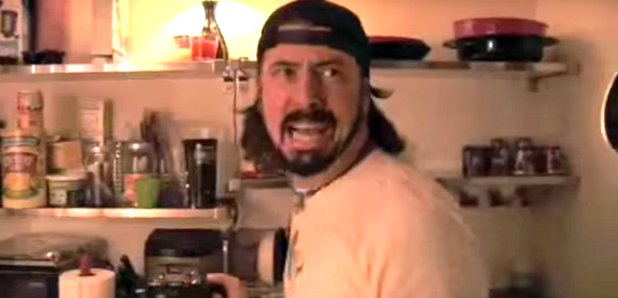 Celebrate UK Coffee Week by looking back at one of the Foo Fighters frontman's most memorable spoofs.
It's UK Coffee Week, so why not look back at the time Dave Grohl was outed as a secret coffee addict?
Prefaced with the words, "Dave Grohl's Coffee Addiction Spirals Out Of Control", this insightful behind-the-scenes clip shows how one man's whole personality can be overcome by the demon caffeine.
The hyperactive drummer is shown thrashing the toms and cymbals at an alarming rate, jumping up and down, screaming, and playing a ukulele in a highly aggressive manner.
Every couple of minutes or so, he screams out for "FRESH POTS"!
Luckily, it was all a bit of banter, issued not long after the release of Them Crooked Vultures debut album in 2010.
The trio was a super-group that also featured Josh Homme of Queens Of The Stone Age and former Led Zeppelin man John Paul Jones.
Was Grohl a caffeine fiend? Well, they say there's truth in humour…
UK Coffee Week, which runs from 10-16 April - is a celebration of all things coffee that also seeks to raise funds for coffee growing communities.