Foo Fighters confirm gig at London's House Of Vans tomorrow night
10 September 2014, 16:02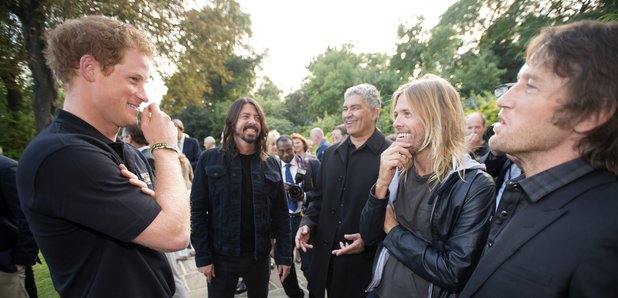 The pseudonym they've used for tonight's Brighton show is billed at the tiny London venue on Thursday. Plus, the band performed for Prince Harry at an exclusive event last night.
After speculation that the band were in the UK and about to play the three secret club shows, Foo Fighters confirmed via their official Twitter account that they will be playing Brighton's Concorde 2 tonight, under the guise of The Holy Shits. Tickets sold out in around a minute.
Now, big Dave has revealed on Twitter that they will be playing House Of Vans tomorrow night…for free!
The ticket link to The Holy Shits show originally went out when fans preordered the new Foos album. It read "Hope you don't mind, I got your email address because you pre-ordered Sonic Highways direct from the band. As a THANKS for that, we wanted to offer you first dibs on tickets for an upcoming secret show in London."
"This is a FREE show."
"We opened up a select number of tickets just for you guys to claim before they are made available to the public. If the tickets on this link run out by the time you click - don't worry — there will be more available to the public later this week."
So it looks like there's still a chance to grab a Foo ticket for Thursday!
Meanwhile, last night (9 September), the band performed a very exclusive show for 3,000 people at the US Ambassadors' residence, Winfield House in Regent's Park. Prince Harry introduced the band, who performed an hour long set that opened with Times Like These and encored with Best Of You.
Grohl said at the end: "We're over the curfew, but hey... I was in Nirvana, I'll pay the fine." He also commented on the fact that it was the Foos' first UK show in two years. "Not that you're guinea pigs or anything."
The audience included a large proportion of service men and women who will be competing at the Invictus Games this weekend.
Foo Fighters will perform at the closing ceremony this Sunday (14 September). Their new album, Sonic Highways, is released on 10 November.