Sir Paul McCartney: "No time" to accept Dave Grohl's Sonic Highways challenge
20 November 2014, 15:28 | Updated: 20 November 2014, 18:28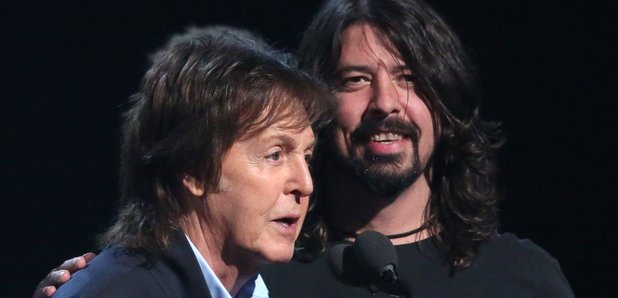 Sir Paul McCartney has told Radio X that he wishes he had the time to take up Dave Grohl's challenge to make a UK version of his Sonic Highways project.
The TV show accompanies the latest Foo Fighters album, and sees the band travel to a different historic studio in the US to record for their new album.

Macca told Danielle Perry: "I like what Dave does…his enthusiasm comes over.

"He told me the idea months ago, before he started on the series and I thought it was quite a brave idea because of the end of the week he's got to come up with a song.

But it's good to have a deadline if you're a brave soul - which he is!"

But asked if he'd consider making a show featuring legendary UK recording studios, Sir Paul said he's already got too much going on.

"I wish I had the time. There's so much history in something like Abbey Road - forget it! It goes right back, way back before us.

"I'm doing a lot of stuff and I love it - but I've also got a life beyond work, so I probably wouldn't have time. But it's a good idea!"