Paul McCartney Features On Foo Fighters' New Album
3 August 2017, 10:00 | Updated: 3 August 2017, 18:12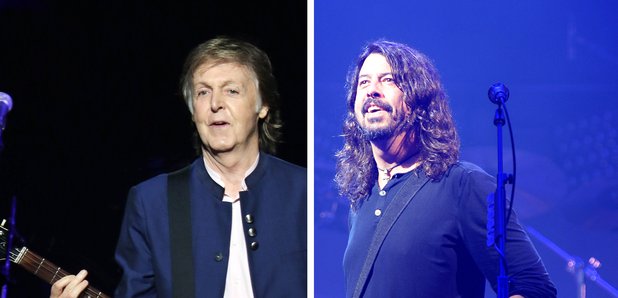 Find out how The Beatles legend contributed to their upcoming Concrete And Gold LP.
Sir Paul McCartney plays drums on Foo Fighters' new album.
The band revealed that the 75-year-old former Beatle has lent his musical talents to the rockers' upcoming Concrete And Gold album, and have dubbed him a "great guy".
Frontman Dave Grohl said: "Paul McCartney plays drums on one of our songs. He's a pal. We've known him for a long time. He's great. He's the most wonderful person in the world. He's a great guy."
Plus, drummer Taylor Hawkins said the veteran rocker only took "two takes" to get the beat down perfectly.
He revealed to ET Canada: "He hadn't even heard the song. He comes in and Dave picked up and acoustic [guitar] and showed him real quick. He sat on his special drum set that his tech set up for him. I sat there with a drumstick conducting. He did two takes."
The addition of the Hey Jude legend won't be the only collaboration on the album - which is due out on 15 September - either, as Dave previously teased the band were working with "the biggest pop star in the world", and has remained tight-lipped about who that could be.
However, recently the rocker ruled out Adele and Taylor Swift telling Rolling Stone:"Neither Adele nor Taylor Swift sang on the record".
Grohl may have ruled out the pop starlets but he did reveal that an unlikely feature comes from a member of 90s vocal harmony group Boyz II Men, and they feature on the heaviest track of the album.
Concrete and Gold is released on 15 September via RCA Records, and so far the band have unveiled lead track Run, as well as several album tracks.
Watch this Foo Fighters' fan's epic version of Run.
Find out more about the album below: