WATCH: These Girls Cover Foo Fighters' Everlong And Absolutely Ace It
30 December 2015, 17:56 | Updated: 30 December 2015, 18:17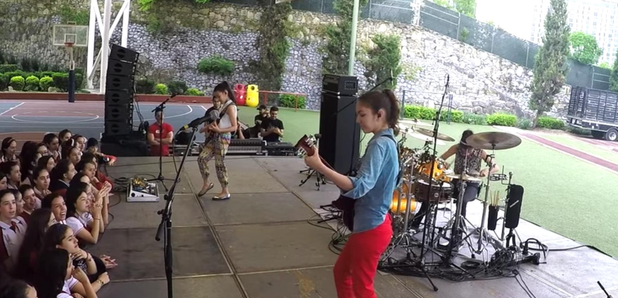 The trio have also performed killer covers of Metallica's Enter Sandman and Muse's Hysteria.
2015's been a huge year for epic YouTube covers, with young musicians putting us to shame more than ever.
But this video of three girls playing Foo Fighters track, Everlong, earlier this month has just made our December.
In the clip below, The Warning - comprised of vocalist and guitarist Daniella, drummer Paulina and bassist Alejandra - take on the Foos with ease, while performing to a captive young audience.
The three sisters from Monterray, Mexico have also recorded an amazing cover of Metallica's Enter Sandman, with some epic drumming that one YouTube fan liked so much, he claimed it was "better than Lars"- referring Metallica's own Lars Ulrich.
The Warning's YouTube page is also peppered with covers of Ozzy Osbourne, Muse and even their own songs.
Watch their seriously good cover of Muse's Hysteria below and listen to some of their original tracks here.
Whatever they choose to cover next, we're expecting some HUGE things for The Warning in 2016.