Foo Fighters' Glastonbury Set Could Last Three Hours
24 June 2017, 07:00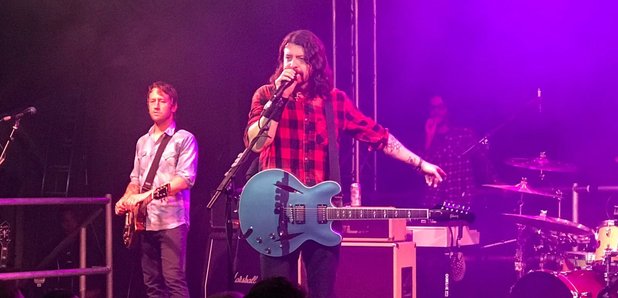 Foo Fighters could play an extra-long set at this year's Glastonbury Festival, if Dave Grohl has his way.
Back in February, the band confirmed that they will headline the festival on Saturday 24 June, with an intimate show in Frome, Somerset.
During the set, Dave Grohl announced that the band had a whole heap of songs to perform and were clearly enjoying being back onstage after their hiatus following the singer's broken leg in 2015, adding "I haven't stood up and done this in a long time."
Big Dave said the secret gig would be very different to the Glastonbury slot and that the Foos had a LOT of songs to play, with a possibility of the Saturday night headline show turning into a marathon set.
He joked: "I asked Michael if he'd let us play for three hours, he said yes."
Watch the band play a new song, La Dee Da, at Iceland's Solstice Festival.
Following the release of a new track, Run, at the beginning of June, Foo Fighters have also announced that a brand new album is set to be released this autumn. Titled Concrete And Gold, the album will be issues on 15 September and it's a surefire bet that some new tracks will be performed at Glasto.
The band have already been playing songs like The Sky Is A Neighborhood and La Dee Da during recent live shows, so if you're lucky enough to have a ticket to Glastonbury this weekend... strap yourself in for an incredible night…
Emily Eavis said about the Foos: "It was obviously devastating when they had to pull out in 2015 – and the thought, effort and generosity they've put in is just unbelievable."