Are Foo Fighters About To Announce Their Glastonbury Slot?
19 February 2017, 18:57 | Updated: 23 February 2017, 14:32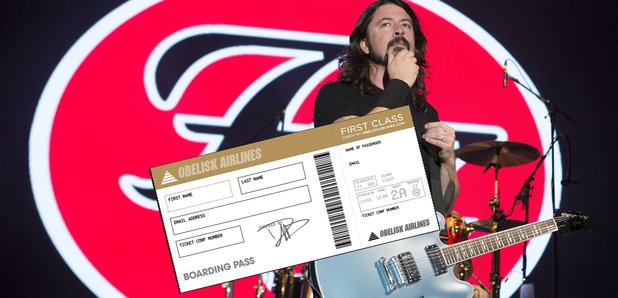 Some mysterious "aeroplane boarding cards" have been sent to Foos fans dated Tuesday 21 February, together with the band's logo inside a pyramid. What does it all mean?
Does it give us a clue that the band will be confirming they're headlining Glastonbury's Pyramid Stage and the announcement will come this week?
Ooh. Let's look at the evidence.
A Foo Fighters fan tweeted that she'd received a mysterious "boarding card" in the mail on Saturday. Topped with a fictitious "Obelisk Airlines", boarding card is labelled "First Class" and the "check-in time" is from 18.00 hours on Tuesday 22 February. It's signed with Dave Grohl's autograph.
Anyone else get a special delivery from @foofighters today?? #glastonbury2017 pic.twitter.com/u2N7QqKK2c

— RachMcP (@RachMcP72) February 18, 2017
The departure airport is listed as Los Angeles LAX and the destination is "CAG" - that's the code for Cagliari Elmas Airport on Sardinia. Weird. And, of course, there is an obelisk - or stone pillar - standing on top of Glastonbury Tor.
The Foos' website is now showing a departure board displaying all the band's confirmed tour dates with ONE date still gibberish and tagged as "PENDING". The site also asks: "Received an airline ticket? Check in here!"
Twitter user RachelMcP, who posted the boarding card this weekend, reveals that she'd entered her details and was given "a link to go to on Thurs". She also confirmed she had tickets to Glastonbury and was on the Foo Fighters' own mailing list.
So, it appears that the band could be about to announce their long-awaited Glastonbury headline slot for 2017. The band are currently favourites to play the British festival, after cancelling their appearance two years ago, due to Dave Grohl's broken leg.
But what does this extra "link" signify? Warm up show? Or something else.
Hmmm… Time to buckle up and get ready for take off on Obelisk Airlines...