"F**K YES": Foo Fighters Give Freaky Mash-Up The Thumbs Up
14 December 2016, 13:19 | Updated: 14 December 2016, 18:08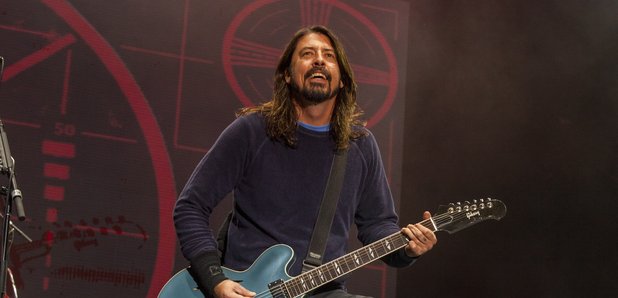 Watch the DJ Cummerbund mix, which blends The Pretender with the likes of Rick James' Super Freak.
Foo Fighters have given a YouTube mash-up the ultimate seal of approval by sharing it on Twitter.
Taking to the social media platform, Dave Grohl and co. posted the DJ Cummerbund mix, entitled Freaktender, with a simple caption which read: "FUCK YES."
Watch the video, which mashes up the band's The Pretender with the likes of Rick James' super Freak, The Beach Boys' Help Me Rhonda and Led Zeppelin's Stairway To Heaven.
FUCK YES. https://t.co/5ZjUaHYDZg

— Foo Fighters (@foofighters) December 13, 2016
Powerful stuff.
The tweet follows news of the band's outdoor gig at on Latvia's Lucavsala Island, which takes place on Wednesday 21 June 2017.
Lucavsala is just one of the many European dates the Everlong rockers have booked in for 2017, also confirming headline slots at Iceland's Secret Solstice festival, Portugal's NOS Alive, Poland's Open'er festival.
See the full European dates they've announced for 2017 so far:
16 June – Secret Solstice Festival - Iceland
19 June - Rock The Beach - Helsinki, Finland
21 June - Lucavsala Island - Riga, Latvia
29 June - Open'er Festival - Gdynia, Poland
30 June – Roskilde Festival - Roskilde, Denmark
2 July – Rock Werchter - Werchter, Belgium
6 July – Mad Cool Festival - Madrid, Spain
7 July – NOS Alive: Castro Daire - Portugal
However, it doesn't take a genius to work out there's still a huge Glasto-shaped hole where the band could play.
Find out why we think they'll headline the Somerset festival,which takes place on 21-25 June next year.
Get more of the latest headline updates, gossip and rumours for Glastonbury 2017: