Dave Grohl Addresses Taylor Swift & Adele Album Rumours
28 July 2017, 09:00 | Updated: 21 August 2017, 18:09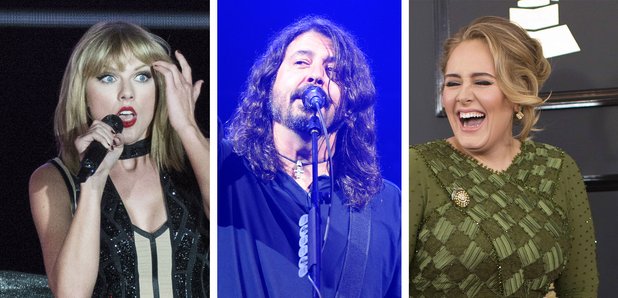 The Foo Fighters frontman has revealed whether the popstars will appear on their Concrete And Gold album.
Dave Grohl has ruled out Taylor Swift and Adele appearing on Foo Fighters' upcoming Concrete And Gold album.
The Foos frontman previously said their new album features the "biggest pop star in the world," leading fans to speculate it could be the either of the singers.
However, in a new interview with Rolling Stone, the rocker revealed: "Neither Adele nor Taylor Swift sang on the record".
Grohl may not be willing to admit who the big pop starlet his, but he has revealed a member of Boyz II Men sings on the album, and he happens to feature on the heaviest track yet.
This week, it emerged that Liam Gallagher turned down a chance to preform with the Foos at Glastonbury festival.
"He asked me to come on and do a song," revealed the Rock 'N' Roll Star to Zane Lowe on Beats 1. "I said no, cos I need a bit of rehearsal. I know it's cool and all that, but I need a rehearsal."
This seems to match Dave Grohl's take on the evening, who admitted meeting Gallagher was the best part about headlining the festival.
"You know my favourite moment of the whole night?" Big Dave told NME. "Five minutes before we go onstage, Liam fuckin' Gallagher wanders in.
"He goes straight over to Taylor and says, 'That fuckin' song – Range Rover Bitch!' Then he starts singing a song from Taylor's solo record.

Liam Gallagher may have not joined the band on stage, but the Learn To Fly rockers paid tribute to another British artist by dedicating their first track to Florence Welch, who stood in for them in 2015.
Watch the moment Dave Grohl performed Times Like These here:
Meanwhile - the band have continued to play a string of live dates, and debut more music from their upcoming album - which is set for release on 15 September.
Watch Sarah Jane Curran's amazing cover of their lead single, Run:
Find out what we know about Concrete And Gold so far: