WATCH: Dave Grohl Surprises Lionel Richie With A HUGE Basket Of Muffins
19 May 2016, 16:22 | Updated: 20 May 2016, 09:17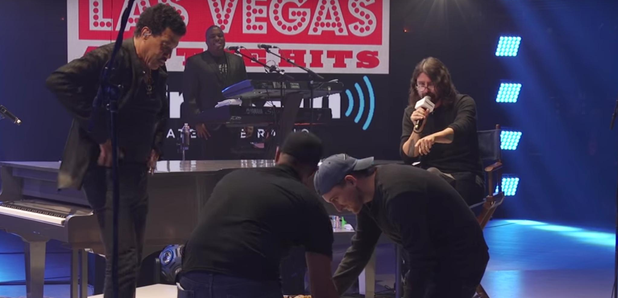 The Foo Fighters frontman returned the gesture to the crooner, who gifted him with cakes when he broke his leg last year.
Dave Grohl surprised Lionel Richie with a basket of muffins.
The Foo Fighters returned the gesture to the All Night Long singer, who gave him a huge hamper of muffins when he broke his leg just before the band were due to play Glastonbury last year.
The pair appeared together at SiriusXM's Town Hall event in Las Vegas, when Grohl explained how they struck up a friendship.
Watch the video below:
After brining out his own muffins for Richie, Dave Grohl said: "That's half the size of the muffin basket you gave me by the way. Half the size!"
Clearly the pair struck up a pretty close bromance after that, since the Foo Fighters man ditched his guitar to sing a rendition of Richie's You Are at this year's MusiCares Gala.
See Grohl in action below: