Dave Grohl Reunites With Medic Who Strapped Up His Broken Leg
14 September 2017, 11:57 | Updated: 14 September 2017, 18:53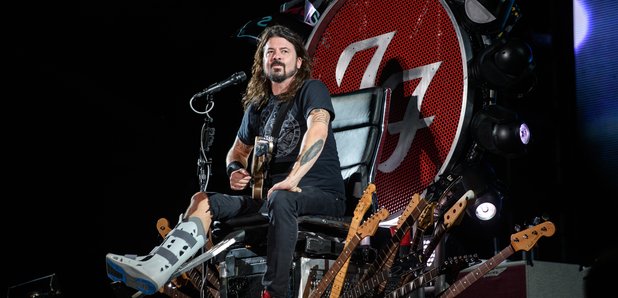 The Foo Fighters frontman has come face to face with the man who helped him after he broke his leg on stage in Sweden in 2015.
Music fans will remember the moment Dave Grohl fell and seriously injured his leg on stage in Gothenburg, Sweden. But no one will remember it more than the Foo Fighters frontman himself, who returned to the stage to play more songs despite being in absolute agony.
The Learn To Fly rocker went on to learn that his leg was actually seriously broken, but at the time he insisted on being strapped up and given a few injections for the pain while a medic held his leg down.
Now the rocker has been reunited with the man who shared a big part of that moment, and took to Twitter to share a selfie they took together, with a throwback image of the event.
See it here:
REUNITED! pic.twitter.com/MOM2sKklyx

— Foo Fighters (@foofighters) September 13, 2017
After their gig the Foos had to cancel their slot at Glastonbury Festival, with Florence + The Machine moved up on the bill.
At the time, Florence Welch performed Times Like These as tribute to the band, and in 2017 Dave Grohl repaid the favour by singing it back to her.
Watch the moment below:
The news comes after after Dave Grohl revealed he "wouldn't be walking" without Paul McCartney.
The Foos frontman said the Beatles legend - who features on the band's upcoming album - gave him plenty of support and helped put him in touch with "some good" doctors.
"He and his family basically set up my entire surgery in London after I broke my leg. It still blows my mind.
"I wouldn't be playing music if it wasn't for Paul McCartney because I learned how to play guitar with Beatles songbooks and playing along to Beatles records.
"But I also would not be walking right now if it was not for Paul McCartney. He knows some good f***ing doctors."
The Foo Fighters are also set to open their own pop-up pub in east London to coincide with the release of their Concrete and Gold LP, which is out this Friday.
Fans will be able to pick up exclusive merchandise and limited edition items at the venue on 339 Cambridge Heath Road, including the Run rockers' very own beer.
KEEP CALM AND COME ONhttps://t.co/VBIghXM55T#ConcreteandGold pic.twitter.com/otkqZAE1jT

— Foo Fighters (@foofighters) September 11, 2017
Announcing the news on the pub's website foofightersarms.com, Dave Grohl and co said: "Foo Fighters are proud to announce the opening of the Foo Fighters Arms in London for one week only. Doors will open to the public on 15th September to celebrate the release of their new album Concrete and Gold and will host a series of events for both fans and the general public. There'll be Foo Fighters beers and exclusive merchandise on sale throughout the week. Keep an eye on the band's social media channels to find out more."
There will also be special events planned during the five-day extravaganza.
FIND OUT EVERYTHING YOU NEED TO KNOW ABOUT THEIR CONCRETE AND GOLD LP HERE: