WATCH: Dave Grohl Performs On Stage With His Surgeon
21 July 2015, 11:46 | Updated: 21 July 2015, 12:34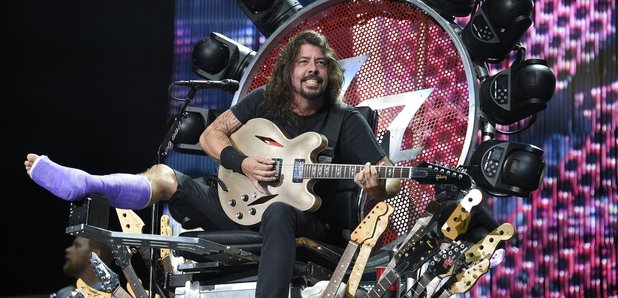 Dave's doctor sang Seven Nation Army with Foo Fighters on stage in Boston.
Dave Grohl invited his surgeon to perform on stage with him in Boston. To be honest, we can't think of a bigger way to say thank you.
At the show at Boston's Fenway Park, Grohl thanked his doctor for the work he'd done on the singer's foot. He then invited the man, named Dr. Lew C. Schon, on stage to perform a solo rendition of Seven Nation Army by The White Stripes.
You can watch the video below.
It's safe to say, Dr. Schon is amazing.
Foo Fighters are currently touring North America. The band were forced to cancel numerous shows (including two Wembley Stadium dates and a headline slot at Glastonbury Festival) after Dave Grohl broke his leg on stage in Sweden.
Foo Fighters will play Milton Keynes Bowl September 5th and 6th.