Dave Grohl Helps Artist Paint Lemmy Tribute Mural
21 March 2016, 11:09 | Updated: 21 March 2016, 11:14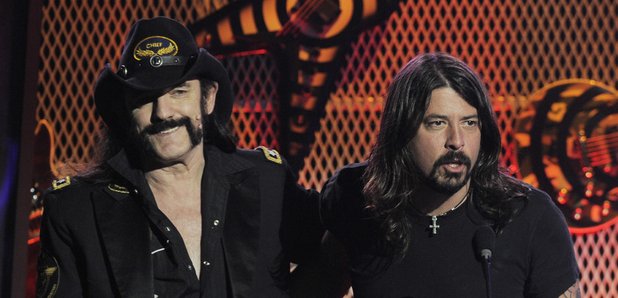 An LA artist has shared a picture of the Foo Fighters frontman.
Dave Grohl has lent a hand towards creating a mural for the late Motörhead frontman Lemmy.
An LA painter and graffiti artist Jules Muck created a 40-foot mural for the Ace Of Spades rock star and posted an image of the finished article on her Instagram account.
The pic, which sees Dave Grohl standing in front of the artwork with bassist Paz Lenchantin, is caption: "Painting w my #rocknrollheroes @fierylimbs @davegrohlrp @officialmotorhead #lemmy @paz_lenchantin".
Paz Lenchantin - who is known for playing bass in the Pixies and A Perfect Circle - posted a sped-up video, showing how the impressing mural was made.
Ian Fraser "Lemmy" Kilmister passed away on 28 December, aged 70, after losing his short battle with cancer.
Speaking at his memorial, Grohl spoke fondly of him, saying: "It's one thing when you have a hero, but it's another when a hero becomes your friend."
Watch the full memorial below: