Dave Grohl: I Cried At Florence + The Machine's Glasto Set
24 June 2017, 20:53 | Updated: 24 June 2017, 21:52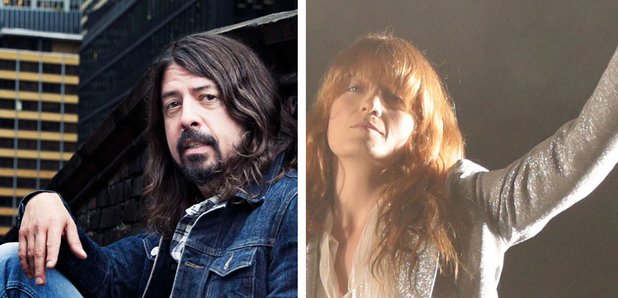 The Foo Fighters frontman told Radio X's Gordon Smart how he was moved to tears when they covered Times Like These.
Dave Grohl has described how "tears started coming down (his) face" while watching Florence + The Machine at Glastonbury 2015.
The Foo Fighters were set to top the bill that year at the Somerset festival when Grohl broke his foot and was forced to cancel.
Now, speaking to Radio X' Gordon Smart ahead of their headline set this year, the Learn To Fly rocker recalled: "I remember when I heard that Florence + The Machine were playing I was really excited because I love them and I love her, and knowing that they were taking our place made me really happy."
He added: "And then I heard that they did a cover of our song, Times Like These, and I was in a wheelchair with my laptop listening to it, and it really got me choked up man. Tears started coming down my face. Not (because) I'd missed the show, but it was such a touching moment for me personally.
"And that they're so brilliant they pulled it off so well."
Watch Florence Welch and co. perform the Foos cover here:
Recalling how he thought he'd able to play the festival despite breaking his leg, Grohl explained: "At first I thought I'd be able to do it.
"When I broke my leg I jumped back up on stage, within 10 minutes and I finished that show and then came down to London and had surgery in London and thought: 'Well, maybe if I just sit down I'll be able to do the show, and after the surgery there was just no way man.
"It was the most pain I've ever felt in my entire life and I was in a wheelchair for a couple weeks. you know.
Looking forward to their upcoming set at Worthy Farm on Saturday 24 June, the Run rocker vowed: "We're a little bit late on that gig, but I'm looking forward to making up for it".
Watch Foo Fighters original Times Like These video: