Courtney Love Said Dave Grohl "Doesn't Have To Change", But This Is What She Meant...
31 March 2016, 13:00 | Updated: 31 March 2016, 14:15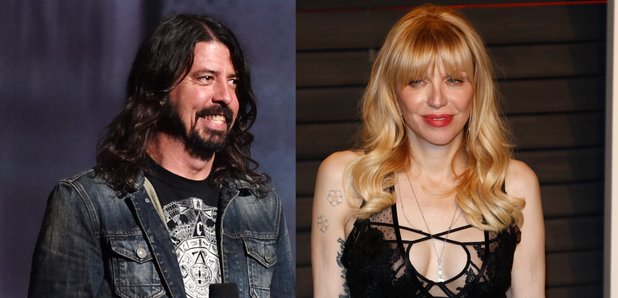 The former Hole singer revealed she's been talking to the Foo Fighters frontman about the band's sound.
Dave Grohl may have called Courtney Love an "ugly fucking bitch" back in 2002, while Love called him "sub-mediocre" in 2007, but it seems the pair are now talking music.
In an interview with Dazed, the former Hole singer revealed she spoke to the Foos frontman this month and told him he "doesn't have to change his sound".
But before you confuse the the quote with a compliment, it seems it was part of a bigger conversation Love was having about the music industry's double standards and the pressure she felt as a woman to constantly evolve.
Talking about the number of female rock stars she said: "I've never really sat down and counted female rock stars. There's a few, there's 10… 15… but throw a TV out on the balcony, the same stuff that Keith Richards did, the same stuff Jim Morrison did, the same things that Bono did – that we all forgot about – yeah, I think I get judged by a double standard a lot, but that's just the way it is."
She continued: "I talked to Dave Grohl about this, this month, that he doesn't have to change his sound, and I kinda do."
"After hearing the latest PJ Harvey record I'm like 'god, this woman never stops evolving, she's so amazing and fantastical', but at the same time I want to sound commercial, but not too commercial because no one is going to buy that from me and I can't deliver that."
So more of a backhanded compliment then?
Love also talked about the possibility of a Hole comeback, revealing that while she's "proud" of the band, she wouldn't want to reunite unless they created "something new".
"I would say I'm really proud of Hole," she told Dazed. "I would say Hole was a really good band, it might still be because I can't remember why I broke it up and we all still get along then why not stick it back together… it's more lucrative to stick it back together.
"If we put something new out that's relevant, but if it's not new and relevant it doesn't really interest me. I honour the past but if it's not new and relevant how are you gonna do that, at 51?"