Beach Boys Track With Foo Fighters & Queen Blocked From Release
8 August 2017, 10:30 | Updated: 8 August 2017, 18:12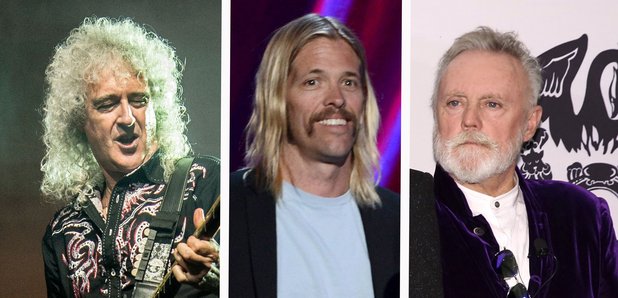 According to reports, the band's Holy Man has been given a new lease of life by Taylor Hawkins, Brian May and Roger Taylor.
A reworked song, featuring members of Queen and Foo Fighters has reportedly been blocked from release following a legal row.
According to The Sun, Holy Man - which was co-written by late Beach Boys member Dennis Wilson and his lead singer brother Brian, 75 - has been given an upgrade by Foos drummer Taylor Hawkins and Queen's Brian May and Roger Taylor but may not see the light of day.
Dennis Wilson's co-writer Stephen Kalinich is the only person who was able to hear the song in its original form and he claims he hasn't had access to it for more than three decades, but has said it's "such a shame" no one will hear the supergroup's cover.
Dennis Wilson tragically drowned at Marina Del Rey in 1983, and the track has been stored away in a vault ever since.
The original music was created by the Good Vibrations stars in 1974, and the rough tape was apparently sent to Queen's guitarist Brian May and drummer Roger Taylor, along with the Foos drummer.
A source told the outlet: "The song is in a vault and nobody can do anything about it. It's such a shame as there will clearly be a huge demand for it."
Talking about the "masterpiece" co-writer Stephen gushed: "It's over six minutes long and it's a masterpiece, but we've never been able to release it because we can't get the legalities worked out. Such a shame.
"People hear it and, honest to God, it brings tears to their eyes."
Foo Fighters' drummer Taylor Hawkins recorded vocals on their version and Stephen says he sounded just like Dennis with "the same gravelly, whisky voice".
He added: "Taylor sent the track to Brian May and he and Roger Taylor fell in love with it. They spent weeks fooling around with it, putting
on vocals and some incredible percussive things."
Fans may not ever here the song, but soon, they'll be able to hear Foo Fighters' Concrete And Gold album, which boasts huge guest spots in Sir Paul McCartney.
Listen to one of their debuted tracks, The Sky Is A Neighborhood, here:
Watch Dave Grohl dedicate Everlong to late Foo Fighters Fan Laura Plane, who sadly lost her battle with cancer this year:
Find out more about Concrete And Gold below: