2015: The Year In Dave Grohl
28 December 2015, 06:00 | Updated: 30 December 2015, 12:57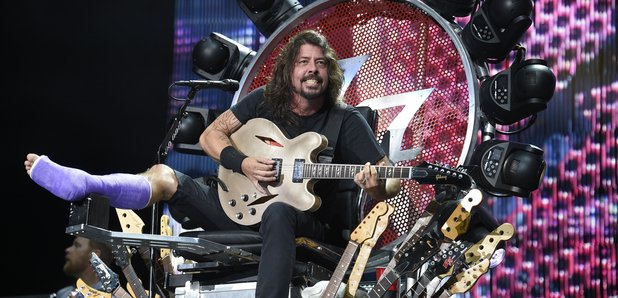 The past twelve months have been incredibly eventful for the Foo Fighters frontman. Let's take a look at the huge highs and crashing lows, including THAT broken leg...
In an eerie premonition of what was to come later in 2015, Dave slipped onstage during a show in São Paulo, but managed to style it out without coming to harm. He wasn't to be so lucky…
That's right, it's looking like the next series of the Foo's travelogue-cum-TV show could be set around the towns and studios of Blighty. So maybe keep an eye out for a bearded man in a town near you in 2016…?

The annual day of enjoying the physical act of walking into a shop and purchasing some recorded music fell under the patronage of our man Dave. To mark the event, he dusted down some old Foo Fighters demos for the mini-album Songs From The Laundry Room.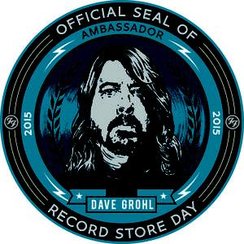 Yes, this happened. As a prelude to the band's huge show at Slane Castle, they slipped through an unusual request - asking that the miniature mythical characters made of plaster are forbidden from the venue. "I don't know if it was put on there to make sure we read it or because they are concerned people will thrown them…" said a clearly baffled promoter.

Then, in Gothenburg, Sweden, Big Dave's luck ran out. Two songs in, he tumbled from the stage at the Uvelli Stadium and broke his leg. Being an utter legend, he came back onstage for a while to attempt to finish the show, but the rest of the tour was cancelled, including their headline slot at Glastonbury a couple of weeks later. Florence And The Machine stood in - thanks Flo.
A broken leg wouldn't keep the Nicest Man In Rock Down for long, no. On 4 July - Independence Day! - Foo Fighters returned to the stage at the Robert F. Kennedy Stadium in Washington DC for a special 20th anniversary show. Grohl played the gig with his leg in a cast, sat in an enormous throne built from guitars.

Despite the leg incident, business continued as usual for the Foos. Having pranked the notoriously confrontational Westboro Baptist Church previously, the band came back for a second go at the controversial anti-homosexuality group. The Foos drove past one of the Church's protests performing Rick Astley's Never Gonna Give You Up, boasting a sign saying: "Rickrolled (Again)"
Mr Grohl has been inviting a lot of fans onstage over the past year, but this was our favourite: after claiming that nobody knew the words to Canadian rockers' Rush's hit Tom Sawyer, a fan named Brian proved him wrong by nailing the performance perfectly.
At the Foos show at Milton Keynes Bowl in September, The Grohlmeister invited on none other than Roger Taylor of Queen and John Paul Jones of Led Zeppelin to perform the classic Freddie Mercury moment Under Pressure. Why? Because he can!
In August, a group of Foo fans tried to get Dave's attention by posting a video featuring 1,0000 fans all playing the song Learn To Fly in unison. It was a plea to get the band to come to Cessna and perform - and it worked! A clearly moved Dave responded and the show finally took place in November.
In the latter part of 2015, there was much speculation over what a mysterious countdown clock on the Foo Fighters website meant. It turned out that the band had recorded a whole new EP, which they were giving away for free. By the time the tracks were issued, events had moved on and the EP became a tribute to the victims of the terrorist attacks in Paris that month.
Big Dave rounded off an eventful 2015 by performing against the tousled-haired puppet tub-thumper on their new series. Who won? Only you can decide.
Following the death of Motörhead legend Lemmy on 28 December, the Foo Fighter's frontman was left heartbroken after losing a "friend & legend".
We've lost a friend & legend. My heart is broken. RIP Lemmy. Born To Lose, Lived To Win. https://t.co/6KJ4cBCNfH @myMotorhead

— Foo Fighters (@foofighters) December 29, 2015
And Dave proved just how much the British rocker meant to him, getting a tribute tat inked on his left forearm.
Rock on Dave!