Foo Fighters Want To Collaborate With This 80s Band...
27 August 2017, 12:12 | Updated: 27 August 2017, 12:36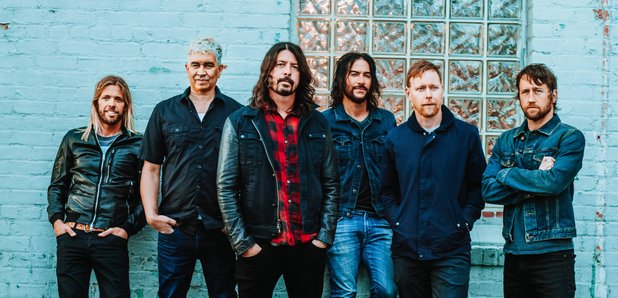 Dave Grohl has revealed he wanted yet another artist to feature on their Concrete and Gold album, which is set for release on 15 September.
Foo Fighters wanted to collaborate with Tears for Fears.
The Monkey Wrench rockers reached out to the 80s band's singer, Roland Orzabal, to ask him to appear on a track on their forthcoming Concrete and Gold album, but he never heard back.
The frontman told MOJO Magazine: "There was a song on the new record that I thought would be amazing if Roland Orzabel sang on or helped produce.
"I emailed him - and never heard back. It would have been a dream come true, to get together with the singer from Tears for Fears."
Watch another 80s icon, Rick Astley, join Foo Fighters for a rendition of Never Gonna Give You Up:
Tears for Fears hold a special place in Dave's heart because their music struck a chord with him when he was a young teenager.
"My sister had The Hurting and Songs From the Big Chair and I secretly fell in love with Tears for Fears," explained the Run rocker.
"That melancholic sense of melody really encapsulated that specific place and time in my life - when you're 13 years old, your nuts are dropping, your voice is changing, you're breaking through puberty, so listening to Tears For Fears somehow soothes the burn.
"When Songs From the Big Chair came out and they broke into the mainstream, they were inescapable in America.
"I still listen to those records often."
While the band didn't secure the Everybody Wants To Rule The World singer, he has shared that Beatles legend Paul McCartney drums on the album, and has teased more about the contribution from Boys II Men singer, Shawn Stockman.
"It sounds like Sabbath and Pink Floyd," Grohl revealed. It's heavy. It's the last song on the record. He built a choir - it's like 40 vocals stacked. It's insane."
Meanwhile, the Foos unleashed their cosmic video for The Sky Is A Neighborhood this week.
Watch it here:
The Dave Grohl-directed video features his own daughters Harper and Violet levitating while the perform on the roof.
To coincide with the track, the Foos launched a constellation viewer, enabling every Foos fan to transform their phone into a tool for exploring the sky in their neighbourhood: click here on your phone to configure a realistic constellation map in the viewer's 3D sphere.
Find out everything we know about Foo Fighter's Concrete And Gold Album: