Could There Be A Muse And Foo Fighters Supergroup?
18 January 2018, 11:54 | Updated: 19 January 2018, 08:29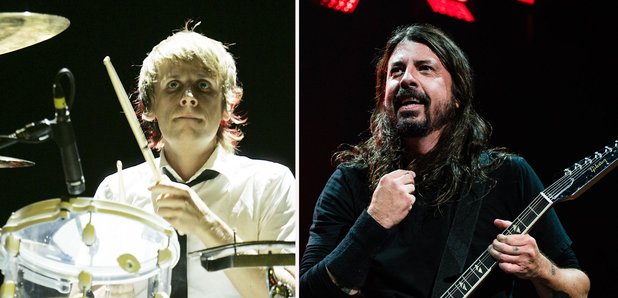 Could the Starlight rockers be working with the Run band?
It looks like Dave Grohl has made it back safely from Hawaii to LA as he was pictured with Muse drummer Dom Howard this week.
A photo shared by the Starlight sticksman sees him posing with Dave Grohl, Taylor Hawkins and what appears to be Nine Inch Nails, Paramore & Angels & Airwaves drummer Ilan Rubin.
He captioned the snap, "4 nerds.." followed by a drum emoji.
Dave Grohl was also snapped with fashion designer Stella McCartney at the Hollywood bash, which was held to celebrate the launch of the daughter of Paul McCartney's Menswear launch for Autumn Winter 2018.
And from the look of it, it was the very same bash which saw Muse's Beatles cover supergroup Dr Pepper's Lonely Hearts Club Band join forces with Macca for a duo of Beatles classics.
Watch Matt Bellamy and co. rock out with The Fab Four legend to Helter Skelter in a video shared on the drummer's Instagram:
A second video shared on the tribute band's Instagram sees the Beatle join in on their energetic version of I Saw Her Standing there in black and white.
Watch it here:
It's not the first time Dr Pepper's Jaded Hearts Club Band have shared some of their Beatles covers videos online. Last year they played a bash, where they performed Twist And Shout.
The footage, which was posted by friend and talent manager David Adcock also saw Miles Kane give an energetic performance of I Saw Her Standing There:
It's not clear where Miles Kane was on this occasion, but he could possibly be helping his Arctic Monkeys mates put the finishing touches on their eagerly awaited album.
Lead photo credit: Dom Howard: Karl Walter/Getty Images, Dave Grohl: Colt Coan / Rmv/Zuma Press/PA Images