Dave Grohl "Would Not Be Walking" Without Paul McCartney
11 September 2017, 11:58 | Updated: 11 September 2017, 17:28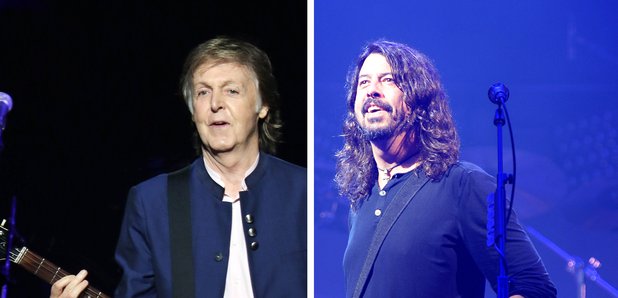 The Foo Fighters frontman has revealed how The Beatles legend helped him after he broke his leg in 2015.
Dave Grohl has revealed that Paul McCartney was instrumental to his recovery after he broke his leg.
Speaking to the Herald Sun newspaper, the Foos frontman gushed about The Beatles legend's support, saying: "He and his family basically set up my entire surgery in London after I broke my leg. It still blows my mind.
"I wouldn't be playing music if it wasn't for Paul McCartney because I learned how to play guitar with Beatles songbooks and playing along to Beatles records.
"But I also would not be walking right now if it was not for Paul McCartney. He knows some good f***ing doctors."
Watch as Dave Grohl plays Times Like These back to Florence Welch, after she filled in for Foo Fighters at Glastonbury:
The Learn To Fly rockers recently revealed that the Hey Jude singer appears on the new Foo Fighters album, Concrete and Gold.
The 75-year-old musician impressed the band with his drumming skills, with his first take of two being used on the finished track.
Drummer Taylor Hawkins said: "You don't generally think of him as a drummer. But he laid that track so f***ing effortlessly. He never even heard the song - Dave kind of explained it to him with an acoustic guitar. And he was like, 'Yeah, yeah. I think I know what you're doing.' "
Paul had such a great time in the studio, he was keen to do more with them.
Dave recalled: "He was so f***ing good.
"We played for an hour, then took a break and had bagels and tea. I thought we were done - I didn't want to rag him out - so I was out having a cig, and someone goes, 'Hey, Paul wants to jam some more.' He rounded everybody up, and we jammed for hours: 'Let's write some songs, man!' "
McCartney quipped: "Well, you know. Once you get the meter running."
See Foo Fighters dedicate Everlong to a late fan at Glastonbury 2017: