Dave Grohl's First Ever Band Scream To Reissue Album
30 March 2018, 18:30 | Updated: 30 March 2018, 18:33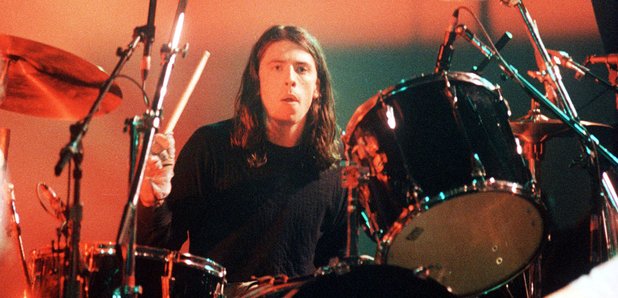 Fans of the Foo Fighters frontman and Nirvana drummer will get the chance to own early work featuring the rocker.
Dave Grohl's first ever band are reissuing their debut album featuring the rocker.

The Foo Fighters frontman and Nirvana drummer was part of Scream from 1981 to 1990, and now their 1988 album No More Censorship is set to be rereleased this April.
Scream vocalist Peter Stahl said in a press statement: "This record was written and recorded during Reagan's presidency.
"US foreign policy was being disruptive in Central and Latin America, Iran-Contra… Art and music was being censored.
"Ed Meese, Ronald's Attorney General was appointed to do a report on the effect of pornography on society.
"Hearings were held in Congress about lyrics and albums, and warnings were placed on album covers.

"One bitter example being Dead Kennedys, who were taken to court over the Frankenchirst album's Geiger poster.
"SCREAM raised money to help in the Dead Kennedys court battle, and more widely participated in benefits to raise money to fight this oppression. 


"So much of what was going on then is still so relevant today. History repeats."

The album was originally reissued as a Record Store Day Black Friday exclusive last year, NME report, but now, the new retitled copy NMC17 will be pressed to silver vinyl and will include photos, lyrics, poetry and personal writings from the Grohl era of the band.

The new edition is slated for release on 27 April.
See the NMC (No More Censorship) Tracklist:
1. Take It From The Top
2. Something In My Head
3. Binge
4. God Squad
5. Hit Me
6. Dreams
7. No More Censorship
8. It's The Time
9. Fucked Without A Kiss
10. GLC
11. Run To The Sun
12. No Escape
Watch Dave Grohl joining Guns N' Roses in Tulsa:
Meanwhile, Dave Grohl recently opened up about why he became a frontman rather than sticking to the drums.
Speaking to Team Rock, the Everlong singer explained: "After Nirvana, I wasn't really sure what to do. I was asked to join a couple of other bands as the drummer, but I just couldn't imagine doing that because it would just remind me of being in Nirvana; every time I sat down at a drum set, I would think of that. And other people would think of that as well."
After months of soul-searching, his solution was to gather up some of the stuff he'd written on his own, and get in the studio and start recording in order to create something completely new,
Most importantly, when it came to releasing his solo work, he wanted something that wouldn't remind people of the tragedy of Cobain's death, and wouldn't even necessarily relate to him.
"I started my own company, Roswell Records, and I called it Foo Fighters because I wanted people to think it was a band. I didn't want any names on it or pictures."
Watch Dave Grohl react to early Foo Fighters demos:
Dave Grohl has also previously talked about why he stopped doing drugs, and surprisingly its a decision he made before Kurt Cobain's death.
"One thing I did before Nirvana became popular was I stopped doing drugs," he told The Sydney Morning Herald.
And when it comes to his reasoning, it seems the rocker realised very quickly that drugs didn't make him feel "healthy" or like he was in control.
He revealed: "By the time I was 20, I just stopped doing that stuff because it didn't make me feel emotionally, mentally or physically healthy.
"I have a drink every now and again, sure, but if you want to weather a career like I've done, you can't do this shit half-assed. It's challenging and you have to try and keep your head – there's a lot going on around you all the time and with time you get better at keeping on top of it all."
Find out what Dave Grohl is whispering in Everlong: