Dave Grohl Thought Foo Fighters Would Be A "Demotion" For Taylor Hawkins
1 October 2017, 13:00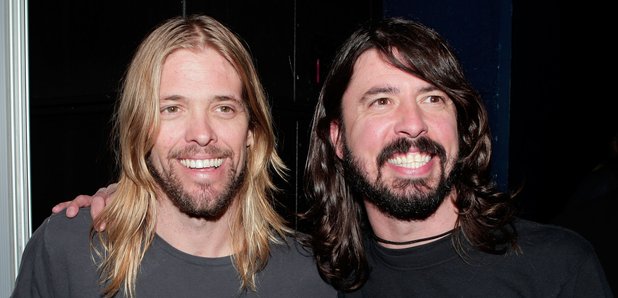 The Foos frontman told Radio X's Chris Moyles why he thought touring with Alanis Morrisette was better than being in the band.
Dave Grohl has reminisced about how Taylor Hawkins came to drum for the band, and revealed he thought it would be a step down for him.
Watch the video - WARNING: STRONG LANGUAGE!
Asked by Chris Moyles if they remember how the sticksman joined the Foos in 1997, Taylor said: "So I called Dave, and I said: 'I heard you need a drummer', and he goes: 'Yes, do you know any?'"
Offering his side of the story, Dave explained: "Taylor was playing with Alanis Morissette, who was selling out stadiums all over the world. I imagined that for him to play drums in the Foo Fighters would be considered a demotion.
"They're playing stadiums all over the world, why the fuck would he wanna join our band - that was playing the Astoria on a Tuesday night?
"THAT'S why I asked [if he knew anyone] far be it for me that I would POACH someone else's drummer."
However, the the Learn To Fly drummer also revealed that when he DID get the call, he was watching a very famous film scene.
"I'll forever in my mind have Showgirls and the phone call from Dave saying you're in the Foo Fighters linked together," laughed the drummer "Which is amazing. It's a perfect day."
Watch the Chris Moyles Meets Foo Fighters interview in full here.
This summer saw the Foos make a long-delayed headline appearance at Glastonbury Festival. Here's one of the highlights: