Foo Fighters Confirm CalJam For 2018
15 November 2017, 10:00 | Updated: 15 November 2017, 14:50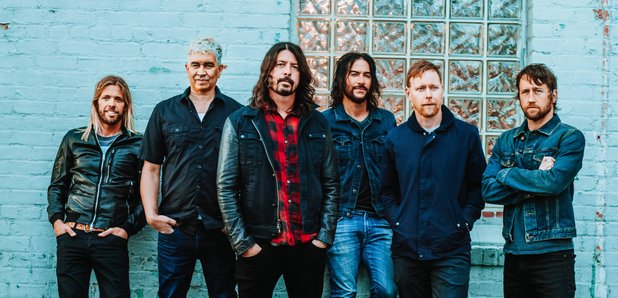 Dave Grohl and co. have confirmed the return of the festival for 2018.
Foo Fighters have announced that CalJam will return next year.
The festival - which is curated by the Learn To Fly rockers - is set to take place on October 6 2018 in San Bernardino, California.
.@caljamfest 18! 10/6/18 - SAN BERNARDINO, CA
FOO FIGHTERS & SO MUCH MORE!
SIGN UP FOR MORE INFO: https://t.co/CD3sbZ8R2M#CalJam18 pic.twitter.com/96ZkZlhq6x

— Foo Fighters (@foofighters) November 13, 2017
This year's event included the likes of Queens Of The Stone Age, Royal Blood and Liam Gallagher on the bill, and included a special performance with the Foos and the Oasis legend.
The rockers were joined on stage by Aerosmith's Joe Perry for a rendition of The Beatles' Come Together, which ended in an uncharacteristic decision to Crowd surf from the Manchester man.
Liam read the lyrics to the 1969 John Lennon tune from a huge piece of paper, before diving into the crowd. Watch the moment here:
Later explaining the reason why he crowd surfed, the Wall Of Glass singer revealed to Vulture: "I thought we were doing I Am the Walrus, but I got there and it was Come Together, so I was going, 'Who? What? Why?' And then, yeah, I'd had a lot to drink as well."
He added: "I'm not one for getting up onstage and doing songs unless I've had a real rehearsal. Especially now with social media, since these things hang around for a bit. So I thought, 'You know what? Fuck this.' And I jumped in the crowd. So yeah, I forgot the words. But I can barely fucking remember my words let alone fucking I Am the Walrus mashed with Come Together.
Menawhile, the Foos are set to visit this side of the pond to play three huge sold-out stadium dates.
See Foo Fighters' 2018 UK stadium dates below:
Tuesday 19 June - Manchester Etihad Stadium
Friday 22 June - London Stadium
Saturday 23 June - London Stadium
The Everlong outfit were last in the country in September when they played a one-off show at The O2, London to celebrate the venue's 10th Birthday.
Watch them perform Never Gonna Give You Up with Rick Astley at the gig:
Back on his home turf, Dave Grohl guest hosted on Jimmy Kimmel Live earlier this month, and performed a very special mash-up with Kristen Bell.
At the request of the rocker - who revealed his daughters would be amazed if they jammed together - Bell performed Do You Want To Build A Snowman? from the hit animated film.
The actress - who voiced Anna in the Disney phenomena - also launched into a gruff version of Metallica's Enter Sandman.
Watch their performance here:
Meanwhile, Foo Fighters are set to play three huge UK stadium dates for 2018, and have already been confirmed for Germany's Rock am Ring Festival next year.
Watch Dave Grohl's impression of Christopher Walken on SNL: