Foo Fighters: Carpool Karaoke "Got Less Fun"
6 October 2017, 13:39 | Updated: 6 October 2017, 18:30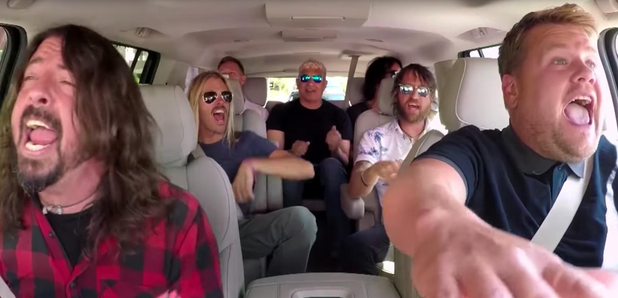 Dave Grohl and co. have revealed that shooting James Corden's famous segment was "a little uncomfortable" and "kinda went on".
Foo Fighters have dished the dirt on shooting Carpool Karaoke, and suggested it's a lot less fun than it looks.
The Run rockers made their appearance on the show last month, singing a selection of their greatest hits and stopping at a guitar shop so James Corden could audition for the band.
"By hour three in dude's car it got less fun," guitarist Pat Smear told NME. "It kinda went on. When we stopped at Guitar Centre, that felt like we were done, but it was like 'this is halfway.'"
Watch Foo Fighters' Carpool Karaoke here:
While Dave Grohl found it "a little uncomfortable" singing his own songs, he credited Corden for "definitely" being a genuine music-lover.
"And he's a very nice guy," added the Everlong singer. "But y'know, I don't mind singing my own songs at Glastonbury or The O2 but if I had to sing you a song right now I'd be too embarrassed."
After Smear said that "singing other people's songs would have been easier", Grohl added: "I could do that all day. We did The Ramones, and Rick Astley, but they didn't use it. I don't know why."
Meanwhile, Dave Grohl recalled the time that they played SNL and Christopher Walken asked them how to pronounce their name.
Watch our video below to hear his story and Dave's hilarious impression:
Speaking about the Hollywood actor, Grohl recalled: "He comes up and asked us if the accent was on the FOO or FIGHTERS. And of course, we know how he speaks…
"I said, I think it's on 'Fighters'. He said [adopts low, growling voice that's perfect Walken], That's what I thought…"