Watch The Moving Moment Florence Welch Sang With A Sick Fan At A Texas Hospice
23 May 2016, 10:35 | Updated: 23 May 2016, 11:00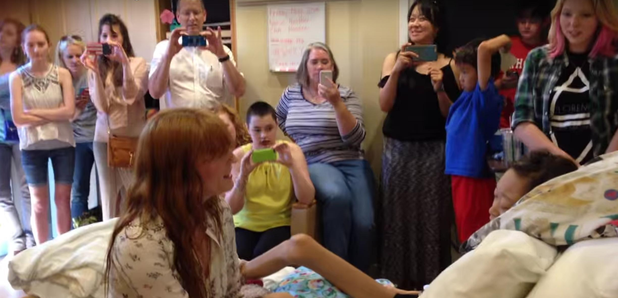 The singer and guitarist Rob Ackroyd gave a surprise gig for a fan who was too ill to make their concert.
Florence Welch sang to fan at a hospice in Austin, Texas, after she was too unwell to attend her gig at the city's 360 Amphitheater.
The singer - who was joined by Florence + The Machine guitarist Rob Ackroyd - surprised the 15-year-old with an intimate two-song set, comprised of their Shake It Out and Dog Days Are Over singles.
In the touching videos, the teen sings along with the British star, while her family and friends provide harmonies and accompaniment to the performances.
Watch them sing Dog Days Are Over below:
Watch them perform Shake It Out below:
"Today we were privileged to witness the clear joy of a room full of teenagers singing with Florence Welch and guitarist Rob Ackroyd," the hospice explained in the video's description.
They added: "The room was full; full of joy and warmth and love and life and singing. Thank you, Florence!"
Picture: hospiceaustin1