Florence + The Machine Unveil The Odyssey Short Film
25 April 2016, 17:57 | Updated: 25 April 2016, 18:05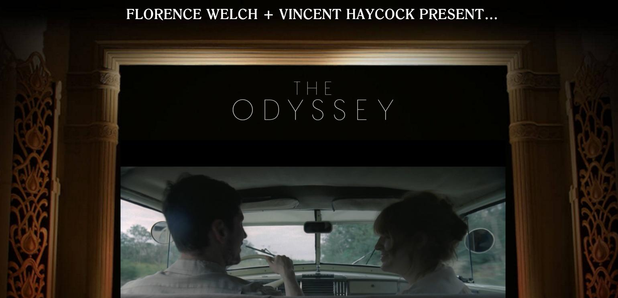 The feature includes the previously unseen video for their Third Eye single.
Florence + The Machine have unveiled a short film today entitled The Odyssey, which includes Third Eye - the "final chapter" of Florence Welch's collaboration with director Vincent Haycock.
Thank you to everyone for watching, enjoy the final chapter. xxx https://t.co/caeijiu6DA pic.twitter.com/MaTUMCrxZA

— florence welch (@flo_tweet) April 25, 2016
The 48-minute-long video features visuals from throughout Florence + The Machines' How Big, How Blue, How Beautiful album including the title track, What Kind Of Man and Delilah.
The short film also debuts the promo to their Third Eye single which you can watch below:
Explaining the project, Welch revealed:"T
his is the finale of a very personal project that came from a conversation me and Vince had in the Chateau Marmont about a year and a half ago while I was writing How Big How Blue How Beautiful. I was talking to him about the record and the car crash of a relationship break up I was going through. The highs and the lows of love and performance, how out of control I felt, the purgatory of heartbreak, and how I was trying to change and trying to be free. And we decided we would re-tell this story in full. We would re-claim this experience, re-imagine it and in some way perhaps I would come to understand it, to exorcise it. And so the Big Blue Odyssey began...
"Thank you to everyone for watching, enjoy the final chapter. xxx
"
Welch and Haycock took part in a live Q&A about the project on Facebook. You can watch it on the
Florence + The Machine
page here.
Meanwhile, Florence Welch and co. are set to play Hyde Park's British Summer Time in June. The singer has revealed more support acts for the London show, which includes Policia, Georgia and Gwlim Gold and Cloves.
Very happy to announce some new additions to the line up for our @BSTHydePark show. Tickets: https://t.co/zAWkyOPhEN pic.twitter.com/xyz5x91KwD

— florence welch (@flo_tweet) April 25, 2016