Listen To New Florence + The Machine Track Sky Full Of Song
13 April 2018, 12:43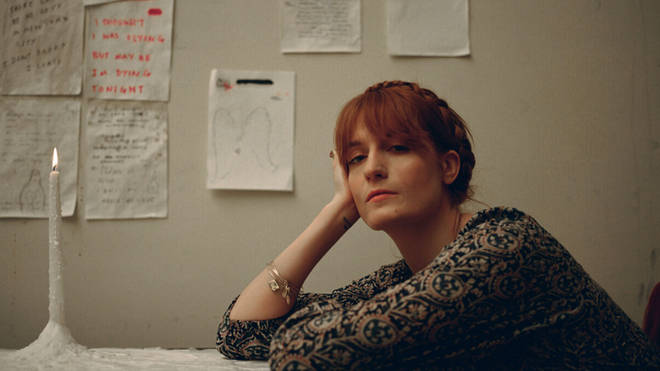 Hear new material from Florence Welch and co. which will be released as a standalone track for Record Store Day.
Florence + The Machine has premiered a beautiful brand new track, Sky Full Of Song in partnership with Record Store Day.
The limited edition, double-A-sided 7" vinyl will follow on 21 April, with the A.G Rojas-directed video for Sky Full Of Song also available to watch now.
See it above.
Discussing Sky Full Of Song for the first time, Florence writes: "This was a song that just fell out of the sky fully formed.
"Sometimes when you are performing you get so high, it's hard to know how to come down. There is this feeling of being cracked open, rushing endlessly outwards and upwards, and wanting somebody to hold you still, bring you back to yourself. It's an incredible, celestial, but somehow lonely feeling."
The Record Store Day release of Sky Full Of Song will be backed by a recording of New York poem (for Polly), taken from Useless Magic: a collection of lyrics, artwork and poetry which will form Florence's first book, and offers a unique, personal insight into her creative process.
Useless Magic will be released on 5 July via Fig Tree / Penguin.
Meanwhile, Florence + The Machine are among the contributors on an album of reworked Elton John classics.
Revamp: The Songs Of Elton John & Bernie Taupin also sees covers from the likes of The Killers, Queens of The Stone Age Ed Sheeran.
Listen to her cover version of Tiny Dancer here.
Their last studio album was 2015's How Big, How Blue, How Beautiful, which was followed by a replacement headline slot at Glastonbury Festival after Foo Fighters Dave Grohl injured his leg.
On the night, Florence and co. paid tribute to the Foos man with a cover of their Times Like These anthem.
When Foo Fighters finally came to play the festival in 2017, Dave Grohl repaid the favour by opening his set with a tribute to the singer.
Watch the moment below: