Everything Everything: The New Album Is Special
4 December 2012, 20:45 | Updated: 1 September 2013, 00:41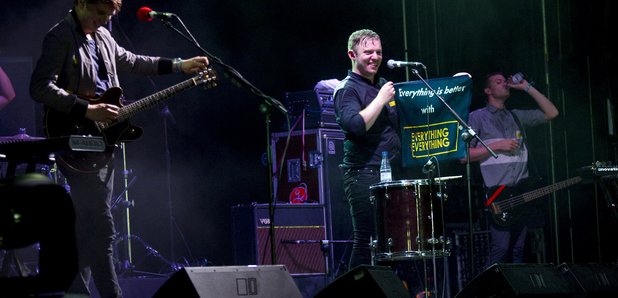 Everything Everything's new album Arc - the follow up to their Mercury Prize nominated debut - is out January 14 and, speaking to us backstage at Radio X's sold out Winter Wonderland with Rocksmith at the O2 Apollo in Manchester, they admitted they said fans shouldn't expect more of the same.
"I think it would probably be surprising if you're a big fan of ours," frontman Jonathan explained. "If you followed the first record then you're going to find bits of this quite different, quite new. There's definitely some new ground for us on there."
Arc has been precede by singles Cough Cough and Kemosabe - both of which quickly made the Radio X playlist.
Jonathan explained that they put a lot of effort into making the new record exactly the way they wanted it.
"Lots of rewriting, lots of just… rethinking stuff and not just assuming that it's as good as it should be when it's first formed," he told Radio X's Clint Boon.
But have the band experienced the so-called 'difficult-second-album-syndrome'?
Jeremy says no.
"We had the benefit of having done the whole process once before. You can only make your first record once and thats a kind of blissfully naive experience. We knew what that was like this second time around and we put all that experience into making the second album.
"We didn't find it that hard - people always talk about that second album… difficulty. We found the first one harder to make."
The band played Radio X's Winter Wonderland with Rocksmith at the O2 Apollo Manchester.
Bloc Party headlined the sold out show - with Maximo Park, Delphic, Spector and Findlay also on the bill.