Guy Garvey: Night & Day Café should get a blue plaque
24 January 2014, 16:12 | Updated: 18 August 2014, 15:21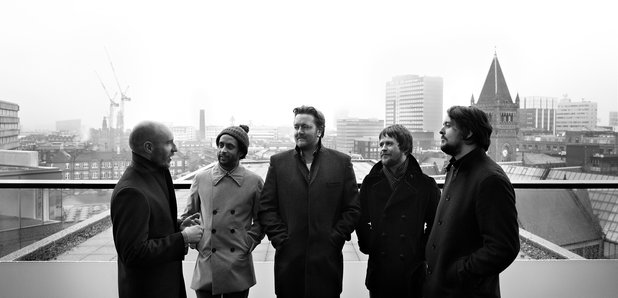 Guy Garvey has told Radio X that it is crucial Manchester's Night & Day cafe is saved from closure.
The venue is under threat after a neighbour complained about the noise, leading to it being given a Statutory Nuisance Abatement Notice by Manchester Council.

Tens of thousands of people have already signed a petition to save it, with Johnny Marr and Tim Burgess having already loaned their support.

Speaking to Radio X's Jo Good, Elbow frontman Guy Garvey said that the Night & Day played a crucial part in the band's history.

"It's been there all the way through Elbow. We played in the floor in the window before Yann had the money for a stage," he admitted.

"Yann didn't get into what he's doing in Night and Day to make money, he did it because he wanted to give Manchester's young artists and musicians somewhere to hang out and a bit of self-respect."

Guy joked that him and Pete from the band used to be the 'Bert and Ernie of Oldham Street' because they spent so much time at the end of the bar there.

"I used to give out Night and Day's phone number as our phone number because we were in there more than we weren't," he added.

"It's not just important for music, it's important for all areas of culture. It needs blue plaque protected status, all of our small venues do."

Elbow are preparing to release their new album The Take Off and Landing of Everything in March.

The first single to be taken from it, New York Morning, was unveiled this morning and is available to download from Monday.

Guy Garvey spent a lot of time in the American city while Elbow were on their extended break. He admitted to Jo that a lot of the themes on the album are about "hopping the pond."

He's not forgotten his roots though.

"Manchester's our home and it will always be my home. Going out [to New York] is good for re-ordering your priorities and having a look at home through a telescope," he admitted.

"I can sit in cafes in New York and people watch and nosy, which is a bit trickier in the UK as we've got more successful, which is a great thing - I would hate it if people to stopped coming up and saying hello. But it's nice to to be out there.

"If you are a writer of any kind, the dream is to be wistfully sat in the corner of a cafe creating, where people don't know what you're doing. I always really enjoyed doing that in Manchester. I did an awful lot of that, even before the band formed I was always sat in the corner of Night and Day cafe, scribbling in my little book."