Julian Casablancas' Thoughts On Jimi Hendrix & Ed Sheeran...
13 March 2018, 13:00 | Updated: 13 March 2018, 13:14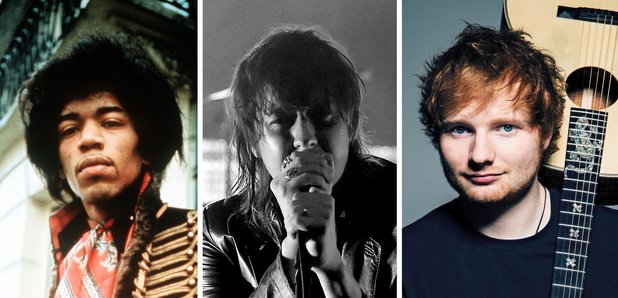 The Strokes frontman has claimed the Purple Haze icon never had any hits, while suggesting Sheeran's success is part of "cultural brainwashing".
Julian Casablancas has suggested Ed Sheeran's success is a result of "cultural brainwashing" and that Jimi Hendrix never had hits in his lifetime.
The Strokes frontman - who is currently on the cusp of releasing a second album with The Voids on 30 March - took part in an interview with Vulture, where he pondered the success of mainstream acts like the Castle On The Hill star.
Despite insisting he doesn't resent Sheeran's success, he questioned why he should get more attention than the likes of Ariel Pink, the multi-instrumentalist whose real name is Ariel Marcus Rosenberg.
When interviewer David Marchese suggested it's because the singer-songwriter is "trying to be pop," while Ariel Pink isn't, Casablancas replied: "Everything you're saying sounds 100 percent like cultural brainwashing."
He explained: "Because if you grew up in a world where Ariel Pink was popular then you would say 'I don't see how Ed Sheeran can be popular.' People grow up with norms knocked into their heads. And I'm not trying to diss Ed Sheeran or any pop star. Ed Sheeran seems like a nice, cool guy and I have nothing against his music."
Watch Ed Sheeran play Castle On The Hill for Radio X:
Turning his thoughts to artists in the past, the Last Nite rocker name checked The Velvet Underground, adding: "Those should've been bigger. Or Jimi Hendrix: People don't realise that it took years for him to get the acclaim that he has now. You look at the charts back then and he was at No. 300. He didn't have hits."
Though the interviewer threw back the response that the Purple Haze rocker was very popular in his lifetime, Casablancas replied: "No, you're seeing it through the rearview mirror."
When asked about a musician from the past that he thought was analogous to Ariel Pink, he replied: "David Bowie. This is my point: People think that public opinion in their own time is the truth. Everyone knows David Bowie now, but I bet he was pretty underground in the '70s."
He added : "I really believed that the internet's capacity to let people access the best of the best of music - from underground stuff to music from all over the world - would've been a positive influence, that music would've evolved like never before.
"Instead music has been co-opted by some kind of capitalist profit game. I thought the internet would help balance the relationship between quality and the mainstream, but it's gone the opposite way. Quality is being sucked out of music. One Direction will have 4 billion views and the best artists of today will only see a fraction of that attention."
Catch up with some of the best noughties bands in our video:
Lead photo credit: Jimi Hendrix: KPA/DPA/PA Images, Julian Casablancas: Kevin Winter/Getty Images, Ed Sheeran: Press