WATCH: Fans React As Ed Sheeran Makes Game Of Thrones Cameo
17 July 2017, 11:00 | Updated: 18 July 2017, 10:39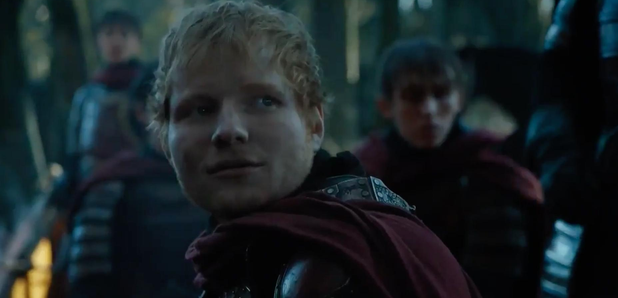 See him sing in the season 7 premiere of the hit series.
Game Of Thrones returned to our screens this Sunday (16 July), kicking of the first episode of season 7 with a special appearance from Ed Sheeran.
The long-awaited cameo, which had been teased since March, sees the singer-songwriter do what he does best; singing by the campfire with his fellow soldiers.
Watch a clip here via @HiWatchThis:
Credit: HBO/Game Of Thrones
In the short scene, Arya Stark (Maisie Williams) rides through the forest and comes across a group of Lannister soldiers singing.
After Ayra says: "It's a pretty song. I've never heard it before," the singer song-writer responds: "It's a new one".
While last night's cameo was somewhat of a surprise, Ed did drop a big hint to his fans on Instagram, writing: "Sunday = cat picture. Also, watch Game of Thrones tonight x".
When the episode aired, he also shared a photo he'd taken of his own TV while he was on screen and shared a photo of himself in full costume, writing: "Throwback to the time I was a Lannister".
Reactions to the cameo were mixed on Twitter, with some fans delighted to see the singer on the season premiere, and others using it as an excuse for a good old roasting.
Nothing takes me out of a fantasy world like a random Ed Sheeran appearance #gameofthrones

— Dana Schwartz (@DanaSchwartzzz) July 17, 2017
Ed Sheeran and a top knot reference on #GameofThrones What a time to be alive pic.twitter.com/HkyH7f6RN8

— Ryan Kathleen Greene (@RyanKGreene) July 17, 2017
me watching game of thrones: hey that guy hella sounds like ed sheeran lmao
me 5 secs later: pic.twitter.com/jEChmeXDvm

— ana (@anaweasley) July 17, 2017
Husband: That's @edsheeran Me: No it's not-wait, what?! #GameofThrones7 #GameofThrones #gameofthones #GOTs7 pic.twitter.com/zRQAjtBVrs

— Theresa (@theresak216) July 17, 2017
game of thrones: we're a prestige show pls take us seriously
game of thrones: here's arya eating a squirrel next to ed sheeran

— tori (2017) (@grinchhands) July 17, 2017
ed sheeran on game of thrones? what's next? britney spears on greys anatomy??!! wait, but actually though...

— Korey Kuhl (@koreykuhl) July 17, 2017
get ed sheeran out of game of thrones

— Alyssa (@avwsmn) July 17, 2017
It was revealed in March the Photograph singer would have an appearance on the show because Maisie Williams is such a big fan.
Showrunner David Benioff said: "For years we were trying to get Ed Sheeran on the show to surprise Maisie and this year we finally did it."
And Ed isn't the only musician to have had a cameo on the programme, as Snow Patrol's Gary Lightbody, Coldplay drummer Will Champion, Sigur Ros and Mastadon have all made appearances in the past.
Watch Ed Sheeran perform Castle On The Hill for Radio X: