WATCH: Artist Creates David Bowie Mural In Swimming Pool
25 October 2016, 12:01 | Updated: 25 October 2016, 12:03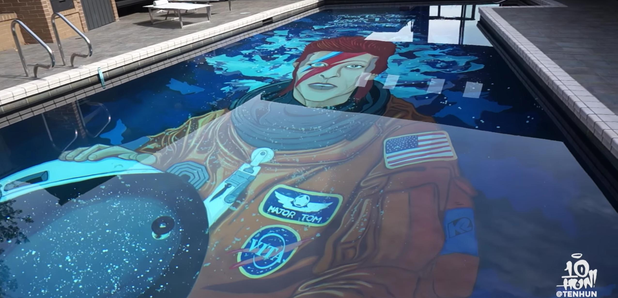 A Seattle-based artist has honoured the late icon with an underwater tribute.
It may be nine months since the world lost David Bowie, but tributes to the star keep on coming.
The latest comes in the form of an underwater mural, which has been created by Seattle-based artist, Ten Hundred, in a local swimming pool.
See a time lapse video of the awesome tribute being created below:
The mural sees Bowie with his iconic Aladdin Sane lightening bolt makeup, and wearing an orange space suit, while holding a helmet.
A special touch also sees "Major Tom" brandished on the icon's badge- a nod to the persona Bowie created for his 1969 Space Oddity single, and referenced throughout his career.
David Bowie passed away on 10 January 2016, after an 18-month-long private battle with cancer.
The star released his Blackstar album just two days before on his 69th Birthday, which friend and collaborator Toni Visconti called a "parting gift to his fans".
Photo: YouTube/TenHundred