WATCH: Sir Terry Wogan's Interview With David Bowie Makes Us Miss Them Even More
1 February 2016, 17:49 | Updated: 1 February 2016, 19:06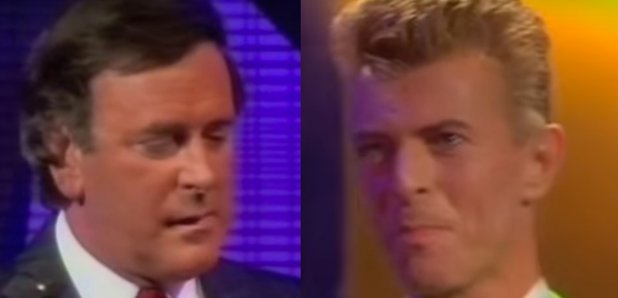 Watch the two legends dazzle the audience in a battle of wits.
Two extremely influential legends sadly lost their lives last month, and this footage of them together just makes us appreciate their impact even more.
David Bowie was interviewed by the Irish broadcaster in 1991 with his band Tin Machine, and the results are - of course - totally mesmerising.
Dubbed an "awkward" by many, the footage sees both stars display their unique sense of humour.
Watch it in all its glory below:
The first inkling of banter comes when Wogan asks the band: "This guy who's fronting you... Is he OK?"
The veteran broadcaster then asks: "Is it all working out?" And Bowie quips: "We have colour problems".
As Bowie gets distracted by someone called Ron in the crowd, he explains: "He's just a mate of ours from Dublin," to which Wogan replies: "Yes, I have a few mates in Dublin as well".
We're not sure if it's awkward, but it's definitely genius, and shows just how quick witted they both were.
It was announced that Sir Terry Wogan lost his battle with cancer on 31 January 2016, while David Bowie died of cancer on 10 January, just two days after his 69th Birthday.
Meanwhile Bowie's will has reportedly left $100 million (£70m) to his wife Iman and two children Duncan and Alexandria Jones.
According to New York Daily News , the late rock star also left $2 million to his long-time assistant, Corinne Coco and $1 million to Duncan's nanny, Marion Skene.