Spiders From Mars Drummer Calls Gaga's Bowie Tribute "Tacky"
31 October 2016, 09:30 | Updated: 31 October 2016, 10:43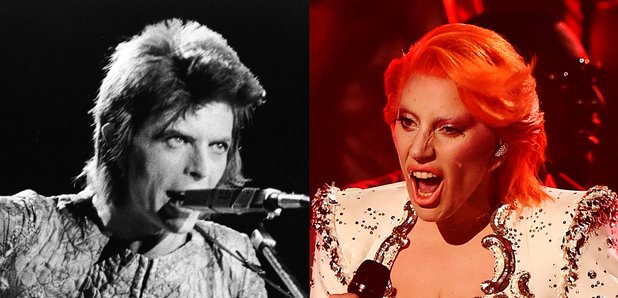 Mick "Woody" Woodmansey has revealed he and Tony Visconti turned down the opportunity join the GRAMMY tribute.
The drummer from the Spiders From Mars has spoken out about Lady Gaga's Bowie tribute at this year's GRAMMY Awards.
Mick "Woody" Woodmansey - who played with the late icon during his Ziggy Stardust era from 1970-1973 - has slammed the tribute as "tacky" and revealed he had the opportunity to perform.
Speaking to NME, he revealed: "We were actually asked to do that, we were on tour at the time, they asked Tony and myself would we do it, and we looked at it and it was going to be like 14 or 15 songs in the space of four minutes, and we just went 'no, fuck off," that's stupid, that's not going to represent anything good about him"
The drummer added: "It was just, 'why are you doing it?' If there's a genuine heartfelt thing that you wanna do out of respect, then you'd probably pull it off, but if there's any other reason, it just gets tacky, and obviously you can't stop that, they have a right to do it as they want to do it, but it doesn't help a lot, it doesn't do a lot."
Watch a snippet of Lady Gaga's performance below:
This is the latest blow for Lady Gaga when it comes to her tribute, who was criticised by Bowie's son, Duncan Jones, soon after the ceremony.
Taking to Twitter the director suggested it was "excessive" and "mentally confused".
"overexcited or irrational, typically as a result of infatuation or excessive enthusiasm; mentally confused." Damn it! What IS that word!?

— Duncan Jones (@ManMadeMoon) February 16, 2016
Responding to the Moon film makers criticism, Gaga revealed it "hurt".
"It did hurt," she revealed to the outlet. "But what are you going to do? I can't… it's his father, you know.
"Whatever he was feeling in that moment I have compassion and love for him. But yes, of course it hurt. I still have to trust and believe in myself as a Bowie fan. I'm not his family, and the thing is, that's his father. His father is not David Bowie, his father is David Jones."
She added: "I'm sure that was difficult to watch and of course, I called many people on David's team before I even begun doing that project and it's unfortunate, what can I say? But God bless of him, you know?"