Mick Jagger on David Bowie: "He used to copy me"
27 January 2016, 11:57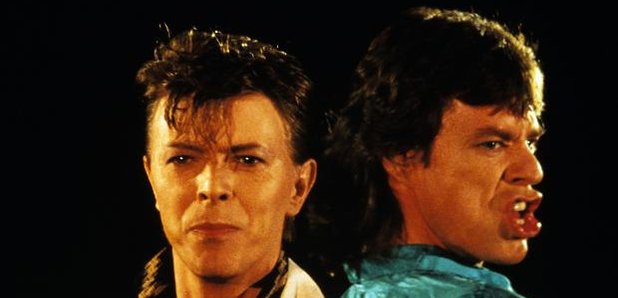 The Rolling Stones frontman says it was a "two-way street".
Mick Jagger has revealed David Bowie copied his style and his moves.
In an interview with Rolling Stone, he remembered his relationship with the late rock star, and said: "He'd always look at my clothes labels.
"When he would see me, he'd give me a hug, and I could feel him going up behind the collar of my shirt to see what I was wearing."
However, the Gimme Shelter singer added that Bowie was always "honest" about copying his moves and shared his own ideas freely.
"He used to copy me sometimes, but he'd be very honest about it," Jagger explained. "If he took one of your moves, he'd say, 'That's one of yours — I just tried it.'
"I didn't mind sharing things with him, because he would share so much with me — it was a two-way street."
Recalling their time spent together in the '80s, the Rolling Stones frontman revealed his favourite song of Bowie's was Let's Dance, because of his memories of their time there.
"We'd hang out a lot and go out to dance clubs.," he revealed. "We were very influenced by the New York downtown scene back then. That's why "Let's Dance" is my favourite song of his — it reminds me of those times, and it has such a great groove."

Talking about their one-time collaboration, Dancing In The Street, Jagger added: "We enjoyed camping it up. The video is hilarious to watch.
"It was the only time we really collaborated on anything, which is really stupid when you think about it."

And what a video it was! Watch it below:
Or enjoy this version - our personal favourite - from Musicless Musicvideos.
Classic.
Meanwhile, The Last Shadow Puppets revealed to Radio X that they "bonded" over David Bowie and even used him for inspiration when writing their debut album, The Age Of The Understatement.
Speaking to Sunta Templeton, Alex Turner recalled: "Listening to Ziggy Stardust and Aladdin Sane when we were writing the first record...
"The lyrics on that first record were perhaps at times an attempt to dip a toe into that abstract world."
Kane added: "He was just a huge influence on everything, and continues to be, and will continue on forever."
Meanwhile, David Bowie's son Duncan Jones has formally broken his Twitter silence, since the death of his father to thank his fans and let them know he is "easing" his way back into Twitter.
Hi all. Just wanted to thank you for the incredibly kind words & thoughts. I'll be easing my way back into Twitter- pic.twitter.com/n0ytOiESWb

— Duncan Jones (@ManMadeMoon) January 23, 2016
The director previously retweeted a thank you latter by a Palliative Care Consultant, who thanked Bowie for making it easier to talk about death.
A thank you letter to David Bowie from a palliative care doctor. https://t.co/ibFYRY8wc1 - thanks for sharing @DrMarkTaubert

— Marie Curie (@mariecurieuk) January 17, 2016